First Choose a Design
LOA 9.5m
LWL 9.2m
BOA 6.0m
BWL 0.975m
Sail Area Mainsail 41sqm Genoa 24sqm
Mast Height 13.5m
Headroom 1.85m saloon, 2.2m hulls
Bunk width 1.35m
Empty weight approx 3T
Displacement to WL 4.2T
Hard chine plywood throughout. You can see a provisional study plan HERE
The Tamar 31 is essentially a hard chine Eclipse and has a similar interior, rig and deck layout. The stem rake is more vertical, hence the shorter LOA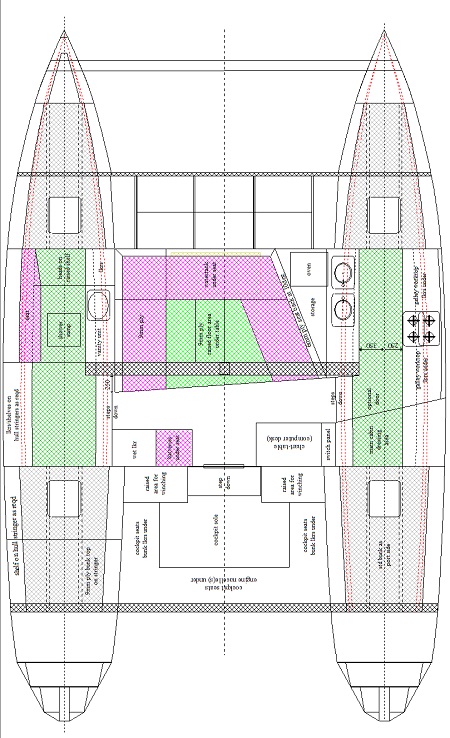 A general cross section at the back of the cabin shows standing headroom in the saloon and 1.3m wide bunks in the hulls
As you can see from the cross section the difference in hull shapes between the original round bilge Eclipse and hard chine Tamar is very small.
Thus the boat should perform equally well
Several sets of plans have been sold, and some builders are well advanced. A set of download plans costs GBP1100. These come as a zip file of pdfs drawn at A4 (8x11) so you can print them yourself
Please contact me for more details and how to order.
you can see some more building photos on Dropbox HERE
(note although both hulls are being built at the same time the spacing is not correct. Each hull will be turned over and repositioned once finished prior to final assembly). This is the first boat the builder has ever built, yet here is a photo taken just 4 weeks into the build. Note the keel planks are just loosely laid in place for show
But here the keel plank has been fitted and bevelling started
Keels and stringers faired, ready to plank!
Glass sheathed and ready to paint
and then a bit later
you can see a build video here https://www.youtube.com/watch?v=S4UnhEK7ha4&utm
Tamar 31 Materials List (Provisional)

Approx: no allowance for errors or waste

Hull Planking 25 sheets 9mm ply 1 sheet 6mm
Stringers 11/2in x 1in 200m 3in x 1in 60m
Glass  600g biaxial 25Kgs plus 300g cloth 10Kgs, 200g glass cloth 10kgs Epoxy glue 150Kgs
Bulkheads and Beams - 6mm ply 9 sheets, 9mm ply 9 sheets, 3" x 2" 50m, 3" x 1" 20m, 2" x 1" 40m, 4" x 2" 8m
Interior - 6mm ply 7 sheets, 9mm ply 9 sheets, 1" x 1" 40m, 2" x 1" 100m
Bridgedeck - 9mm ply 11 sheets, 12mm ply 6 sheets, 2" x 1" 25m, 3" x 2" 30m,
Decking - 6mm ply 2 sheets, 8 or 9mm ply 20 sheets, 12mm ply 3 sheets, 2" x 1" 70m, 2" x 2" 40m, 3" x 2" 15m
Coach Roof -  12 sheets 6mm ply (two layers)

Note: All plywood to be best quality marine grade gaboon/okoume, sheet size 8' x 4' (approx 2440 x 1220).
All timber to be clear sitka spruce, douglas fir or similar. Dimensions given are "Planed all Round" PAR (eg 2" x 1" has an actual finished size of approx 45 x 20mm)

Use 3/4in no 6 stainless steel cs head screws on 6mm ply, 1in no 6 on 9mm ply
Filler paint etc as reqd