Pre-owned boats
Due to popular request we now offer this page for those who want to buy and sell their multihull. This web site is seen by thousands of people every month who are specifically interested in sailing catamarans, so it makes sense to advertise here and reach serious potential buyers.
A quote from someone who listed their boat with me: "He paid the price I was asking which I'm pleased about. I only had the boat advertised on your site and was getting an average of about one email a week. I originally thought it could take 2years to sell, what with the economic climate and all. Also it is an unusual boat but it does attract a lot of attention."
"These adverts clearly get viewed by enthusiasts. We needed a quick sale and this advert generated interest from 3 parties in the first week. John (Belfast)"
The cost to advertise your Woods Design is £50  and the advert will run until sold. Please use the button below to order an advert 
Or the cost is £75  if it is a non Woods Design boat. Again, the advert will run until sold. Please use the button below to order an advert
Boats wanted and gear for sale/wanted adverts can be put on my Forum pages. These adverts are free.
After purchasing an advert please email us with full details of your boat, including up to 4 photos.  Please note, you should send advert as plain text and photos as small separate jpegs. Doc and rtf files will not be accepted as they take too long to reformat. Thank you.
NOTE:  I have kept some old adverts online so you can get a guide to prices
Vardo 34 "Faith"
"Faith", 34' Woods Design Vardo

Okoume plywood and west system epoxy
Completed 2020
Since completion she has sailed approximately 2500 miles including roundtrip from SE England to
NW Scotland of 1400 miles
Sleeps 6 in two cabins and saloon area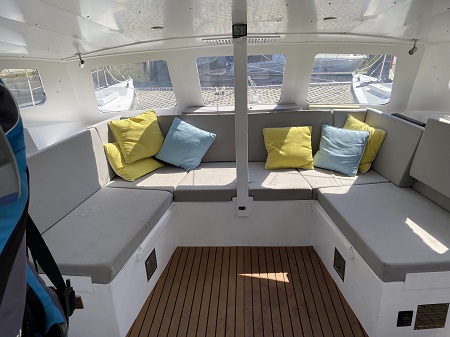 Feature list:
Fully battened main with stack-pack and lazy jacks; reefing lines to cockpit,
Furling genoa,
Spinnaker in sock,
2 x Lewmar winches (1 manual, 1 electric),
2 x 20 hp 4-stroke Tohatsu outboard engines

Electric windlass, rocna anchor with 45m chain,
Raymarine axiom MFD with full instrumentation and tiller autopilot (including spare),
Inflatable dinghy with 2-stroke outboard (predates catamaran),
500W Solar Panels, 2x180Ah AgM batteries,
Full AIS, EPIRB, life-raft, fixed and handheld DSC radios,
DSC/AIS linked lifejacket,
130l fuel storage, 300l water storage, 40l solar assisted hot-water with immersion,
Shower, basin and composting toilet,
4 auto bilge pumps,
LPG oven/grill, hob and space heater,
2 fridges with ice boxes (1 keel-cooled),
Afloat in Kent, SE England, UK
£95,000
Contact Steve at This email address is being protected from spambots. You need JavaScript enabled to view it. for any further information or pictures as required
Miriam Sagitta catamaran
FOR SALE -  MIRIAM - WOODS SAGITTA CATAMARAN BUILT 1997  - £39,000
Miriam is moored in Penzance, Cornwall, UK for this season. Construction - Professionally built at Foss Quay, Millbrook, 1997 in Western Red Cedar Strip/Epoxy hulls with Marine Ply decks and superstructure, all coated in epoxy and glass fibre as per Woods Designs. LAR keels. Unsinkable. Anti-osmosis treatment - epoxy construction - plus Copper Coat 10-year anti-foul 2015.
Engine
 Yamaha 9.9hp extra-long shaft high thrust (June 2011). Steerable with the tillers or wheel, charging 25 amp hour starter battery. 3 x 12 litre fuel tanks in cockpit locker.
Rig
Z-Spars with twin-grooved furling gear. Bomb-proof rig with caps, intermediate and lower shrouds and diamonds plus front beam whisker stays- all renewed April 2021. Sails - Fully battened mainsail (Westaway 2006) plus original Dick Batt sail (1997), re-furbished in 2006, as spare. Jib headsail (Solo 2015). 82 sq metre Spinnaker (Solo 2015) and 45sq metre spinnaker, set from bowsprit or bow turning blocks.
Electronics
Solar panels charging 3 x 80amp hour domestic batteries. DSC VHF radio (2011).
Chartplotter. AIS. Autohelm connected to wheel drive unit for self-steering.
Wind, speed, depth units with display.
Galley
Fresh water electric pump to sink fed from 60 litre rigid tank under starboard quarter berth. New LPG oven and grill plus 4 burner hob and s/s sink, all with flame failure. 12v front load fridge (2021). Fire blanket. Sheriff gas detector with sensor. LED lighting.
Saloon
Two opening forward hatches. Removable table transferable to the cockpit for al fresco dining or to form king-size berth. 2 fire extinguishers. LED lights above table.
Heads
Jabsco toilet (2008) with new twist & lock pump 2016. Wet locker housing Carver P4 lpg heater supplying warm air to saloon and quarter berths (not used for many years so needs servicing).
Fresh water pump for basin fed from 60 litre rigid water tank beneath port quarter berth.
Cabins
Two quarter berths. 6ft 2in doubles with shelf unit in each plus netting for clothes etc. Side tables, LED lighting, USB phone charging outlets.
Navigation Desk
Port side ½ size Admiralty chart desk. Barometer and chronometer. Full standing headroom in quarter berths, nav. station, galley, heads and cockpit tent.
Ground tackle
12kg CQR on 10m chain and 50m' 18mm anchorplait warp. Aluminium Danforth-type (from Richard Woods' original Sagitta) on 5m chain and 30m 18mm anchorplait warp.
Cockpit
2 Lewmar 30 main winches plus 2 Lewmar 15 Spinnaker winches. Wind, speed and depth instrumentation. S/s wheel alongside Yamaha engine controls. Steering is detachable to enable tiller steering from either port or starboard seats when sailing. 2 x Navico compasses. Life ring. All lines led back to cockpit for reefing without leaving the safety of the cockpit. Full-width pram hood connectable to full cockpit tent to extend living space for dry winter warmth or summer bimini shade. 6 cockpit drains. 5 lockers with fenders, warps and spinnaker lines. Manual bilge pump. 3 Propane gas bottles with regulator. The cockpit tent has not been used for 12 years.

Ancillary
Zodiac 2.6m inflatable with Yamaha 2.5 4-stroke outboard (2012). Four person life raft (in bag) service due 2021.
Low and sleek, the Woods' Sagitta is classified as a Cruiser/Racer, however, Miriam is fitted out for cruising, but is still capable of consistent beam reaching at >10 knots (max achieved 14 knots) under spinnaker. She returned from cruising the coasts of NW Spain and the French Atlantic coast in 2008 and has since been maintained and sailed in Mounts Bay and the Isles of Scilly.
Price: Reduced to £39,000
Contact: Jeremy Gilbert This email address is being protected from spambots. You need JavaScript enabled to view it.(at)btinternet.com
Elf 26 Kayt
Woods Elf 26 for sale.
 Recent re-rig including forestay and furler
AIS 'B' VHF DSC
Garmin 750 Chartplotter 
Hob / Grill
90ah Battery
Yamaha 9.9 HT (7 years old)
Main and jib, age unknown, but good condition. North G2 Asymmetric Spi
Jabsco Marine Toilet 
Recent tramp
Stowe instruments, recent transducers. 
Lewmar anchor and kedge chain and rope.
Good Boat; sailed extensively in the Channel Islands.
Reason for sale - time for a bigger boat! 
Viewing in Jersey CI
Offers around  £18k
This email address is being protected from spambots. You need JavaScript enabled to view it.
Gypsy "Water Music"
PRICE REDUCED!!!!! Woods Gypsy for sale. was 40000 euros now 35000euros!

Due to Brexit, Covid, and ill health I am forced to consider selling Water Music this summer (2021).

Launched in 2006, she has been sailed exclusively in Dutch inland waterways and inshore coastal waters. She has been used for extended summer live-aboard cruising, and wintered ashore every year.

Water Music is well know on Woods and other forums and I have many videos on my Youtube Channel

https://www.youtube.com/playlist?list=PLVQuivAqwrjEtR8A3ZcaMOxmgeG8OpidP

If the link does not work, search for "Water Music sailing" on youtube.


The boat is constructed in fibreglass/foam sandwich for the hull panels, and marine ply/glass/epoxy for everything else. The boat has a full cruising inventory, and is well maintained. She is currently stored ashore in Holland and I am hoping to get out to Holland in early July to have a short (2 months) summer cruise. But I live in Cyprus, and Covid makes any travel plans extremely uncertain.

Brief inventory:

Fully battened Mainsail, Furling Jib, spare jib, spinnaker, large light-wind genoa (screecher) on its own furling system. All sails are top class and in excellent condition. The screecher has been used for one season only.

Carbon fibre bowsprit and carbon fibre whisker pole.

Yamaha 9.9 outboard - excellent condition - about 100 hours.

Rocna bow anchor with chain and warp, Fortress spare anchor.

All running and standing rigging in good condition.

Advance Sea Chart plotter, Icom VHF, AIS receiver.


Full live-aboard inventory (too much to list) - four/five berth - all cooking utensils - Origo two-burner alcohol stove - two porta potti chemical toilets (one in each hull) - many spares - more than sufficient dock lines and fenders - etc. etc.

I built Water Music as a safe and comfortable cruising cat. Many construction/rigging items were over-specified or over-built. Consequently, she is not the fastest Gypsy afloat if you are into racing, but she is very comfortable for extended cruising, very seaworthy, and with the new screecher on the bowsprit, she is competitive with much larger vessels. I usually have to limit our sailing speed to 6/7 knots as my wife is a nervous sailor above those speeds. Water music has been tested in rough North Sea conditions over the years, and I have upgraded such things as rudders, safety rails and windows according to our experiences.
 

I am now 74 years old and I expected to keep sailing Water Music for another ten years or so, but Brexit, Covid and my wife's ill health have turned our world upside down. If we make it to Holland this July, I will be happy to welcome prospective buyers. We will be in the Zeeland area (south of Rotterdam).  

For details, contact me by email: This email address is being protected from spambots. You need JavaScript enabled to view it.
Strider Club Yeta
Strider Club YETA Price £4000 ono - Strider Club with an enlarged rig.
Made famous in "A Day Sail to Russia" and is Richard's old boat.
Built 1989. Fully battened main (Dolphin Sails) and almost new barely used jib. Spinnaker 2003 by HK sails, good condition. Mast replaced 2002. Main traveller system and jib Barber haulers and spinnaker sheets. Various ropes and fenders & elderly boom tent (still functional, but never used by us). Ropes, halyards etc are generally in good condition. There is an auto-pilot for easy single-handing - I have sailed up our relatively narrow twisting estuary at speeds of up to 10 knots single-handed with all 3 sails flying as the system is very simple to adjust.
There is a 6HP Suzuki 4 stroke outboard with alternator; an elderly battery;  switch panel; instruments: wind speed & direction, speed/log and depth; Lowrance colour chart plotter with GPS and charts covering northern Europe; nav lights; sea toilet; radar reflector; stainless steel platform connecting front beam to bridle; additional cleats and a new aluminium forward beam to increase jib tension. 
The boat has been stored on land for the past three years and both hulls have been taken back to gel coat - and given 5 layers of Hempel High Protect epoxy coating. Photo proof of all preparation and layers available. I also have the survey report from when I bought the boat in 2010 - the general boat condition is much the same now as then apart from the work on the hull. The hull is very dry and the inside of the boat never seems to take in water no matter what the weather outside - I have recent moisture meter measurements.
It has been a great boat to sail with my family. Speeds of 10 knots are easily achieved and we have seen 15 knots with 2 sails on a reach. My family are all grown up and I have returned to dinghy sailing again so Yeta must be sold.
She is ashore on the north coast of Northern Ireland (I brought her over from England on a flatbed trailer) and is priced to sell quickly. I have many recent photos of her hulls, sails, etc both before and after the epoxy coating and the 2010 survey from when I bought her.
Contact Patrick RichardsonThis email address is being protected from spambots. You need JavaScript enabled to view it.This email address is being protected from spambots. You need JavaScript enabled to view it.
Strike 20 12500 Euro
Strike 20 Trimaran
2015 built, French registered on 08/12/2015, category C with 4 crew, used from April 2016 mostly on fresh water
Pictures :
https://share.orange.fr/#UH4New2maA43bc2fc01e
Performance:
Speed to windward 11/12 kt , 15/16 kt downwind as attested by video records (Camera with GPS Garmin VIRB X :
https://share.orange.fr/#kyjd1TGQnA3a6bffd8a1
https://share.orange.fr/#YlsxnHIHsJ3a6c0007da

Construction :
Mainhull Okoume marine ply/Oregon pine/glass/époxy, hull exterior, cockpit and decks sheathed with glass / epoxy.
Aluminum 6061 T6 anodised swinging beams , 100 x 3 mm sections .
Vectran waterstays covered with polyurethane. (4 x 6mm each)
Outriggers and daggerboard from Nacra 5.80, F18 central rudder.
Custom Bainbridge trampolines .
9,60 m rotating mast from Hobie Cat 21, 150 x 80 mm section . Carbon boom and tang.
Sails :
Tri-radial mainsail 19,5 m² , two reefs (2016, Tri-lam PXT 15/20, 1/10 purchase mainsheet Harken blocks on 2 m Harken track) , 8 m² jib (2016, tri-radial PXT 15, Harken furler) made by VB Sails.
18,5 m² Gennaker from Forward Sailing on Ronstan furler, 30 m² Spi 2019.
Equipment :
Foblight mooring warp
Trailering :
Road trailer ROCCA, rolling weight 650 kg, registered new 12/2016
Trailering possible by swinging beams and outriggers above mainhull (high center of gravity)
or lying outriggers on berths alongside the mainhull, only beams swung (lower c.g.)
Price as described above 12500 Euros
Available on 08/12/2020. Boat is lying in Sanguinet, 40460 France. Contact Patrick at This email address is being protected from spambots. You need JavaScript enabled to view it.
Mobile phone number is 0033683191075
Optional :
Suzuki 2,5 CV 4 strokes long shaft 2016 (mostly fresh water use). 700 Euros
F18 Marstroem Rudders on outriggers, carbon heads + coupling tubes,700 Euros
GPS Velocitek speed Puck and Tacktik fluxgate compass 200 Euros
Flica 36 Celcius
Realize your dream on a catamaran at a very affordable price. 99,500EURO
Start your world tour in South East Asia in very easy sailing conditions and well sheltered from cyclones.
Celsius is  a Flica 36, built in 1988 in wood/epoxy by a professional shipyard in Quebec, the Atelier Multcoques. 
Only one caring owner.
Spacious sailboat for its size, robust and efficient. Comfort and tranquility guaranteed.
Always well maintained. The first 15 years she sail only 4 months per year, in Canada , United States or Bahamas.
Departure for half a world tour in July 2005.
Only the hull and the mast are 30 years old. Before the start of 2005, new engines (2 Yannmar 2GMF), new composting toilet, new fridge(12V eutectic), electronic devices and autopilots(Raymarine chain drive).
Between 2016 and 2019, new sails( main and genoa), new windlass, winches, radar, batteries , solar panels,  water maker(20 l/h) and mast rigging. Celsius has 3 working autopilots. Other sail are DRS (2005), code 0 (2014), working jib(2005) and storm sail, all in very good condition. 
So a boat ready to sail again for many years. Around the world is within your reach and come and sail in Malaysia , take the time to acclimatize to this wonderful way of life. Celsius is in Rebak marina in Langkawi,  a duty free Island.
Celsius is waiting for you. Contact  me for many more details
Claude Rivet This email address is being protected from spambots. You need JavaScript enabled to view it. 
Skype or Messenger Catacelsius WhatsApp +60138669408
EURO99500
Havcat 27
Havcat 27 light weight cruising / racing catamaran, APATAKI designed by Lars Oudrup (Denmark). Sail number D24M
======================
2019 update
FULL NEW COPPERCOAT antifouling applied (four coats)
Most exterior surfaces repainted, undercoat plus two top coats 
Battery Monitor fitted
new 120 watt solar panel system 
Afloat Ionian sea for summer
REDUCED PRICE 19,250 GBP or OFFER for early sale - you can sail her this summer from mid July.
===========================
8.3m x 4.5m x 0.5m (dagger boards up). Lifting rudders.
Built 1980 Number 23 of production Series of 25 boats in Denmark. Solid GRP layup beneath the waterline, foam sandwich GRP elsewhere. Anti-fouling is a copper system.
She had a full interior refit in 1995/96 including new floors, cupboards, light fittings, wiring, plumbing and deck cleats. New polycarbonate sliding main hatches and new marine ply washboards were fitted for 1999 season. The boat has been continuously maintained and improved by present owner.

The boat is equipped with large daggerboards enabling good upwind ability. The 1996 ones were professionally rebuilt in 2015. Rudders and housings, and front crossbeam have all been upgraded, ie. Replaced with stronger Mycat 28 units in consultation with Lars Oudrup the designer.
Owned by a friend since 1989, and present owner since 2000. Previous owner sailed the boat from Kiel to Swansea, stopping at Ramsgate Harbour to pay UK VAT.
In 2001 present owner sailed her to Spain, wintered afloat for two winters in Mar Menor, Murcia, then ashore at Almerimar Marina. In 2004 she was sailed to Balearic Islands, Sardinia and on to Malta where she has wintered ashore each year until June 2017. For winter 2017/2018 she was in the very sheltered Porto Turistico Marina di Ragusa, Sicily and cruised Ionian Islands of Greece in summer 2018. She is now ashore at Preveza, Greece.

Open air living is the feature of this design with large T shaped cockpit, to which can be added the wooden folding dining table (stored against hull side in navigation area) when not sailing. Below large double berth on bridge deck is accessible from each hull. Starboard side has sitting / dining area and galley plus quarter berth (currently used for fridge and storage).
Port hull has navigation room with large chart table and electrics control panel Also a storage place for an outboard motor for dinghy (there is no motor), heads / toilet with sink and vanity unit., sail locker and stowage, plus quarter berth.  Standing headroom in the hulls. Galley has two burner SMEV stove and grill. Galley was professionally rebuilt in 1995/96 including stainless steel sink with hand pumped water tap, and storage cupboards and spaces. New galley floor (2017). Each hull has a flexible water tank.
Fully battened main, 1998 Ratsey sets well, Jeckells genoa, 2004 (UV protection strip replaced 2018) – good condition, No.1 (very good condition), inner staysail, spinnaker. Approximate sizes main 18 sq m, genoa 23 sq m, jib 15 sq m, staysail 10 sq m.
Sailspar genoa continuous line roller reefing system – 1996
Standing rigging was replaced in 2005.
MOTOR - NEW 2018 YAMAHA HIGH THRUST 9.9 hp longshaft, electric start, tiller steering / controls kit, alternator (cost about 3700 euros).
New 2.5 m RIB (2016)
2 x 105 amp hour leisure batteries (2017). Charging by two solar panels. Isolator switch allows one, other or both to charge and be used. One panel is fixed, one can be angled to the sun.
New Garmin Chart plotter / gps (2016), new Lowrance VHF radio (2016)
Autohelm, Davits, various equipment. Full cockpit sun awning can be erected when not sailing.
Present owner added 4 opening Lewmar ports (opening to cockpit) and Lewmar catamaran escape hatch in bridgedeck.
Improved Interior includes replacement of most headlining with higher insulation material.  Much other work was done in winter 2017/18
New genoa sheets 2017. New mainsheet track control rope 2018
New spinnaker guy – 2018
Main anchor Bruce with chain and warp.
2nd anchor 10 kg Hall with 15m chain and warp (new 2018)
New 50 km distress flare pack 2017, valid 4 years.
Two new mattresses for quarter berths (2016) - 207 cm x 87 cm (max).
Waeco 35 litre portable fridge, mains and 12v. (2017)
Ashore Greece from September 2018 – ready for Mediterranean / Adriatic sailing.
Asking Price 23,500 euros VAT Paid

Email for more details: This email address is being protected from spambots. You need JavaScript enabled to view it.
+356 79913726 – David
For comparison of value please note that another Havcat 27 from 1979 (sail number D25M) was offered for sale at 30,000 euros, lying Denmark with broker Evecom and featured as June 2018 boat of the month. She was soon sold.
Brand new Saturn for sale due to Ill Health - now SOLD!
Sold from this advert!
"Seabean" is a Richard Woods designed Saturn o.a.l. 29ft o.a.b. 18.5ft.  4000#empty weight,the boat was built to designers specification and is in new condition, recently launched, Nov. 2014, see pictures of the launch on flickr photoalbum on the Saturn design page.
Seabean has accommodations for up to 6 , there are 2 bunks in each hull and the centercabin table drops to make a comfortable double bunk.
The boat features safe and comfortable walkways all around and has a large comfortable cockpit.
The mainsail is fully battened 300 sq.ft., genoa is 145 sq.ft. hanked to forestay with a jibbag and a 600 sq.ft. triradial spinnaker,it has a large cockpit awning and ATN  super comfortable bownets.
All deck hardware ,vangs, blocks, tracks,are Lewmar, Garhauer, Harken, Colligo, lewmar winches and Spinlock and Antal rope clutches.Standing rigging 1x19 s.s. headstay,7mm Dynex Dux synthetic shrouds with Colligo deadeyes.
For ground tackle there is a 22#Delta and a 15#FX-23 Fortress anchors with various lengths of chain and anchor lines, there are various lengths of docklines, mooring lines, fenders.
Engine is a 2014 9.8hp long shaft electric start Tohatsu with 6amp alternator, a 4 blade prop, racor fuelfilter and 6.5 gallon fueltank,
a marine deep cycle battery, 12 voltDC electric system, all circuits to switches on controlpanel, all interior lights and nav. lights are LED, there is a Ritchie bulkhead mount compass, GPS, and handheldVHF .
This catamaran is for sale by the builder, my asking price is negotiable at USD$ 34.900,for more information,details, construction pics. Lying Punta Gorda, Florida, USA please contact
This email address is being protected from spambots. You need JavaScript enabled to view it.
Sango SOLD from this advert!!!
Professionally built 1997 in cedar ply epoxy. Fitted out for fast cruising and can easily be sailed single handed with all controls led back to the cockpit.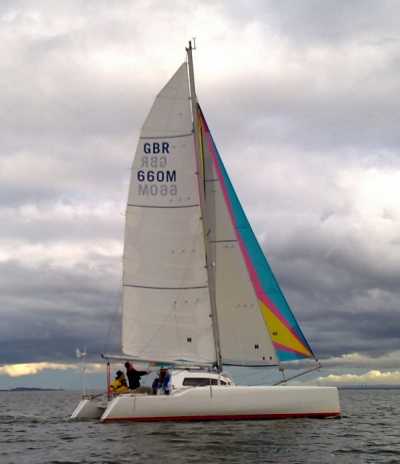 Extentively repainted in 2009 with new windows and new mainsheet traveller. Also fully battened main with some extra roach and Ruttgerson batten cars and 2 jibs (one smaller) all by Hyde 2009. The boat has a bowsprit for an assymetric spinnaker with snuffer by Hyde 2010 and a screacher with Karver KF1 furler by Dolphin 2008.
Trailer professionaly built, galvanised but never been immersed 2008.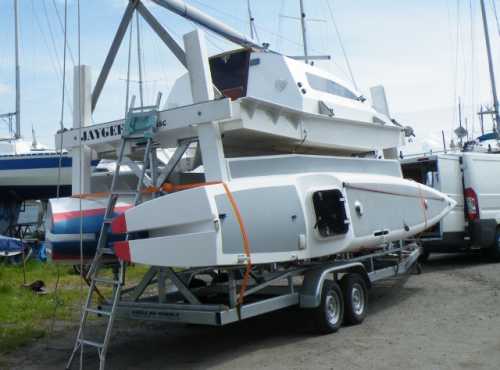 Raymarine ST40 log, echosounder, wind monitor and ST100+ autopilot all intergrated with Furuno GPS and Raymarine ST6000R remote control. All LED lighting in cuddy and hulls as well as nav lights. Rutland 503 wind generator.
Yamaha 8hp 2stroke with custom well cover which doubles as seat, picnic table etc. Custom awning which can be seen in the Yearly Review 2007. The boat also gets a mention in Oct 2010. There is a launching trolley and all the usual stuff, anchor , cooker, sink, water tank, fenders, battery, bilge pumps etc.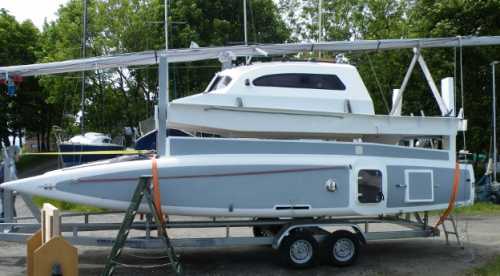 This boat has been maintained to a high standard, is fast, comfortable and a huge amount of fun to sail. Located SE Scotland UK
Price £20,000
Wizard Bombay Duck 2
SOLD from this advert! Wizard 22 foot catamaran.

Completed and launched in 2012.
2012 Tohatsu Sail Pro 6 hp outboard extra long shaft with charging alternator. Calvert mainsail and roller jib both new in 2012. Harken furling drum. Also has removable bowsprit with endless loop roller for light air screecher sail on wire luff included.
GPS, Depth sounder, handheld VHF radio, LED navigation lights all around, LED cabin lights, One marine battery with switch, fuse and distribution panel and switches for all circuits.
Center cabin table drops down to form double bed for a couple. Also sleeps three more in single berths in hulls. 11 gallon water tank with Whale flipper pump and small sink. Marine head with 11 gallon holding tank and pump out.
Safety equipment: flares, horn, fire extinguisher, docklines, fenders.
Includes heavy duty custom built trailer with double axles and surge brakes. 14" wheels. 2 inch ball. Boat folds up onto trailer for transport and storage.
"Bombay Duck II" is a very easy to sail, responsive, and comfortable catamaran. I am the builder of this boat. I am selling due to change in life plans.
For a walk around video of this boat click on link  http://youtu.be/g0KU_O5c0xY
For more details please contact This email address is being protected from spambots. You need JavaScript enabled to view it.