All Our Designs
DOWNLOAD PLAN PRICE GBP50.00
Please click on the button below if you wish to buy plans. Note: You can pay using Paypal or with your normal credit card.   
Plans will be sent as a zip file once payment has been received. This is no longer an automated system, so please allow 48 hours for your order to be processed and your plans emailed to you. If you have not received plans after that time please contact us at This email address is being protected from spambots. You need JavaScript enabled to view it. 

THE FACTS AND FIGURES
sheet ply stitch and glue

LENGTH 4.86m
BEAM 1.3m
WEIGHT 49Kgs
CARRYING CAPACITY 4 Adults
SAILAREA (optional) 3.5sqm
Note: The BEE and LINNET are very similar designs, differing mainly in their aesthetic appeal, although BEE's slightly longer waterline makes it a little bit faster.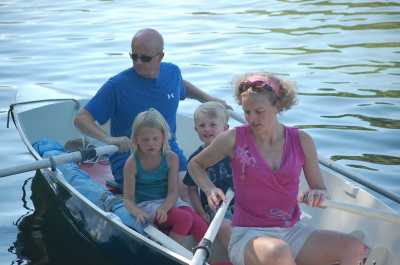 BEE has a Vee bow which allows her to slice through a choppy sea. The moderate freeboard midships with reduced windage fore and aft plus the built in daggerboard case mean that sensible owners can take her out in coastal waters, in addition to all inland waterways.
BEE can also be fitted with a simple low rig for offwind sailing or when the crew are feeling lazy. Because of it's light weight and easily driven hull, BEE will surprise with her speed. BEE can easily be rowed for long periods by one, or even by two, but see report below. In either case there's room for passengers and lots of gear. She is stable, so you don't need to be an expert to handle her.
Al writes
"I wanted to thank you and share with you all the enjoyment that building Bee brought me. They were certainly some of the most enjoyable hours I have spent in a long time.
Unfortunately my time spent on Bee was quite unexpectedly cut short. The very day that I launched Bee, as I was about to recover her from the launching site at our local reservoir I was approached by a father and his young son. He complemented me on the boat and inquired where it was purchased.
Telling him that I had built myself was very satisfying indeed and I offered the use of the boat to them.
The sheer joy and excitement that young boy expressed took me back to my own youthful days, what a great reminder! After about an hour or so, they returned and the father asked if I would sell them the boat.
One glance at the son and I knew I could not refuse. Thank you for the opportunity to give another generation a lifetime of memories that like my own, richly provided me."
===============
"I thought you might like to see a picture of BEE at speed. I am pleased to report that our BEE successfully completed the 21 mile Great River Race down the Thames from Richmond to Cutty Sark in 3hrs 24 mins. Result 111 out of 252. We had cox'n; 2 x scullers and a passenger. Interestingly on the day with four up she was less stable than in practice with only three up, nothing to worry about though."
The photos show BEE when flooded. The boat is heeled because it has weights hanging over the gunwale to represent a crewmember reboarding (see the ISO stability standards for more information). Very few open boats remain stable when flooded, yet, as the lower photo shows, Bee can still take my weight when full of water without capsizing. LINNET has similar stability
.
Because of her light weight BEE can easily be cartopped, opening up many more cruising grounds BEE is very easy to build using just 3 sheets of 4mm (3/16") and 3 sheets of 6mm (1/4") plywood, plus some timber and epoxy.
"BEE is truly a delight to row and under sail it performed beyond all my expectations. Thanks for designing such a well thought out functional craft, with such handsome lines  - eyes light up when they first see the craft. I'm going to enjoy rowing and sailing this leisure craft for many years to come.
Best wishes - thanks from one very happy customer in Australia" See more HERE