First Choose a Design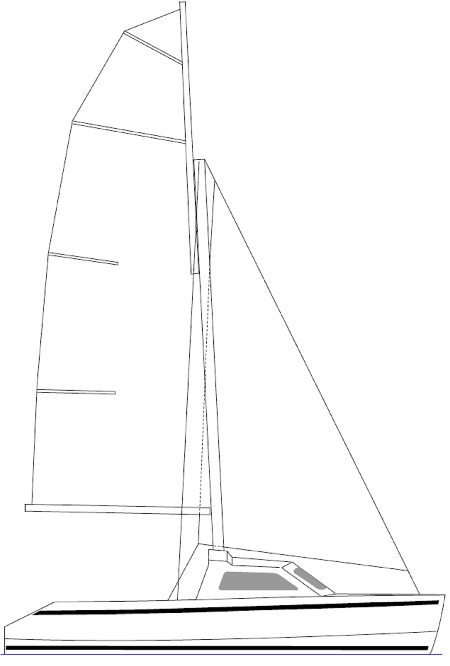 The Chat 18 is a safe day sailing catamaran designed for sheltered waters and is very simple and easy to sail. Even so, it is still a fun and responsive boat.
Comprehensive building plans are now available and cost GBP100 (USD120). Kits will be available shortly from my US and UK dealers.
You can download a provisional studyplan HERE and see a great builders blog http://projectcatamaranchat18.blogspot.co.uk/
Please email me This email address is being protected from spambots. You need JavaScript enabled to view it. for a free full study pack including sample build sheets

It is 8ft wide so is easy to trail with no assembly needed. Indeed it will be quicker than most small monohulls to get from trailer to water, typically 15 minutes. That's because raising the mast is quick and easy, there is no keel to lower or water ballast to fill. Furthermore, the boat is a rectangular platform, safe and easy to walk around on when onshore while most of the gear and the sails can be left in place when trailering. The trailer itself is just a regular flat bed trailer, no supports or rollers are needed.

The small cuddy offers enough space for simple cooking, with icebox stowage, and privacy for a porta potti. The cockpit seats are 2m (6ft6in) long so the integral boom tent means it is quite feasible for two people to camp on board.

The rig features a gunter mast so it can be easily home built in wood using the standard "birds mouth" construction. The gunter rig also keeps the spars short to simplify trailing and rigging. Of course a conventional one piece mast can also be used, maybe an old beach cat rig?
The two full length battens increase both mainsail area and efficiency and allow the leech to twist off in wind gusts, while the "soft" lower part is easier to "read" and reduces rig weight and cost compared to a full battened sail.

The engine fits in a nacelle for easy access and to increase manouverability. A 2.5hp outboard (or maybe a yuloh) is suggested for sailing, but up to 20 hp is possible when using the Chat18 as a motor sailer with speeds around 10 knots

The Chat 18 is fitted with low aspect ratio keels for simplicity of both building and sailing, however daggerboards are an option for very shallow water sailing. The rudders are offset to increase the width of the transom boarding steps.

The high freeboard, plus the protection that the cuddy provides, helps keep crew and passengers dry. The hulls have extra buoyancy aft to support crew weight (many small catamarans trim by the stern with crew on board). The bridgedeck clearance is kept as high as possible and it is "Veed" for extra stiffness and to reduce wave slap.

Despite its small size and the essential watertight compartments, there is still lots of storage space in the hulls for anchor, warps, fenders, deck cushions, BBQ, fishing tackle and all the other "stuff" that makes a day out on the water more enjoyable.

The Chat 18 is very simple to build, featuring all flat panel plywood with glass/epoxy chine joints so there is no timber bevelling. It is small enough to build in a double garage using "hardware store" materials and minimal tools, thus making it an ideal first boat project.

Please contact me for more details on the plans and kits

Basic Materials List (approx, no allowance for waste or errors)

6mm ply 20 sheets
9mm ply 4 sheets

Timber
2in x 1in 40m
3in x 1in 2m
2in x 2in 5m
1.5in x 1in 40m
keels 1850 x 300 x 4off
Beams 4in x 2in  x 2.5m 5 off
Rudders 3m x 8in x 1in 2 1.5in x 2m
glass tape 150m 100mm (4in) wide
Sheathing (optional) 60sqm 200g/sqm (4oz)
epoxy 20kgs
screws 1000 18mm (3/4in) x no6 200 25mm (1in) x no6  st steel cs
paint, filler etc as required
Please also see my FAQs pages regarding timbers, plywood and what Planed All Round (PAR) means