All Our Designs
Download Plans cost GBP1150
Please click on the button below if you wish to buy full building plans. Note: You can pay using Paypal or with your normal credit card. 
Plans will be sent as a zip file once payment has been received. This is no longer an automated system, so please allow 48 hours for your order to be processed and your plans emailed to you.

If you have not received plans after that time please contact us at This email address is being protected from spambots. You need JavaScript enabled to view it.. We never transfer money from Paypal until your plans are ready to send out. Normally if there is a delay it is because we are away sailing.
LOA 8.5m 27ft10in
LWL 8.3m 27ft3in
BOA 4.2m 13ft9in
BWL .64m 2ft1in
Headroom 1.9m 6ft2in
Displacement empty 1.8T 4000lbs
Displacement to WL 2.3T 5060lbs
Engines: twin 20-60hp
Skoota won the "Most Interesting Boat" prize at the 2013 Vancouver Wooden Boatshow and also was a Wooden Boat Magazine "Wooden Boat of the Week" in August 2013
NOTE: If you do not want to build this boat yourself then it is available professionally built in ply/epoxy to any state of completion in Sequim, Wa, USA. Please contact me for more details, or scroll right down for the builders quote.
The Skoota 28 is now also available with longer, 30ft hulls. The extra length is only in the hulls and the cockpit. The extra length gives more displacement, so better able to carry bigger engines and also offers a slightly higher top speed. The cockpit is 300mm (12in) longer and the aft steps are also 300mm longer. That gives more room for a dinghy in davits. For now the plan price is the same as for the Skoota 28.
A "true" Skoota 30 called the Aegean, using symmetrical hulls, thus similar to the Skoota 32 but with Skoota 28-like accommodation, is now available, see separate web-page for more details. 
You can download a study pack for the Skoota 28 28 HERE

From a home builder: "Thank you for your quick reply. Your Skoota 28/30 plans are of excellent quality and easy to understand. Congratulations!"
========================

The Skoota 28 is a 28 ft demountable coastal cruiser for a couple. Ideal for the European canals, the PNW or the Great Loop. It will demount for transport on a flat bed lorry/truck or could even be towed by a large car but should not be considered "trailable". When disassembled it does not need a "wide load permit" for transport.
We launched the first Skoota in March 2013 for us to use as a coastal cruiser in British Columbia. After 50 years of sailing you can see why we chose to have a powercat as our cruising boat HERE
As with my other powercat designs the Skoota 28 is designed as an economic cruiser with a cruising speed of 10-12 knots. Our Skoota is fitted with twin 20hp outboards yet still does over 16 knots flat out. Twin 60hp are the maximum recommended for speeds in the mid 20's
Apart from being comfortable, fast and economic underway, the Skoota is also a very safe boat.
For a start it has twin engines, which, even though modern outboards are very reliable, has to be better than relying just on one.
Next, each hull is divided into seven different watertight compartments so even if holed neither hull will flood. And even if they did, the central cabin would keep the boat afloat. Not only that, but there are no seacocks or skin fittings in the hulls to leak or break off. There are no bilges, so no need for bilge pumps.
Finally, a boat is essentially immune to capsize in waves until the wave height exceeds the beam of the boat. Only after that does the boat become at risk from capsize. With a 14ft beam the Skoota is much more stable than most monohull powerboats.
Like all the Skoota designs, the Skoota 28 is a lightweight boat, and is based on the experience gained from over 35 years of sailing multihull designs. It isn't a twin hulled trawler! So even a completely decked hull can be easily carried by six men. As you can see, two hulls can be taken on a regular flat bed trailer and together are under 2.5m, 8ft wide.
or here if the embedded video does not load www.youtube.com/watch?v=7k-LHu2VwwA
The central cabin can travel on its aft bulkhead, so it is 6ft wide, 10ft high and 12ft long. Thus both hulls and cabin will fit on a 40ft trailer without needing a permit. If you have a wide load permit then the cabin will fit on sideways, as it is 9ft10in wide (just under 3m) which obviously makes it much easier to load onto the trailer.
The in-build photos below give an idea of the interior layout, the finished photos are lower down the page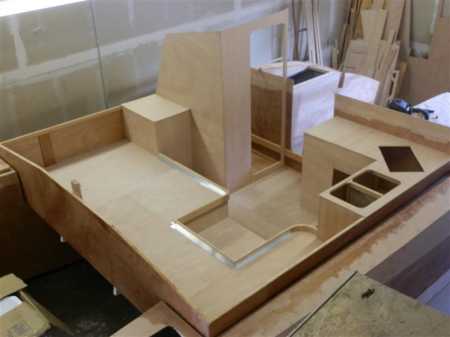 Note, the anchor lockers and bridgedeck front still need to be bolted in place
The Skoota was built 40 miles from the launch site and the shed door it was built in was 10ft wide.
Once built the boat was disassembled and man/woman handled outside and onto a truck. Driven 40 miles down a busy highway and reassembled ready for launching. No wide load permit or escort used. You can see a "sort of" time lapse video below. This includes shots of the disassembly, transport and reassembly (in the snow!).
or here if the embedded video doesn't play www.youtube.com/watch?v=RERXh8T4gwI
As it is our own boat we will be posting many more videos and photos over the coming years, but for now here is the first. Note this video was taken before adding the cockpit seats and bimini. Also before the engines were trimmed properly (they now angle forward more, so the bow does not rise so much at speed)
and some photos here, showing we still have a lot of painting to do! (So the carpet is not yet fully fitted) But at least we can go cruising while finishing it all off.
Galley with double sink, 2 burner stove, large fridge and plenty of stowage. Opening hatches in aft bulkhead and another in the roof. Full headroom throughout.
The galley from the doorway showing easy access stowage for chartbook and other essential  items
Double bunk is almost queen sized, it could be wider at the expense of the forward lockers
The saloon seats 6 comfortably (table still to be fitted!)
We are using a composting toilet from C-Head. It looks the part and not at all plasticky as other similar toilets are. A generous shower room, plus vanity with sink (out of sight)
This is a detail of the builders (Wheelhouse Woodworks of Sequim, Wa, USA) excellent woodwork
and proof that the boat will do over 16 knots with twin 20hp outboards. You can see we are motoring at the head of a bay, so no tide or wind effects to distort the speed.
In more wind and taken from the local ferry (which does 15 knots)
or here www.youtube.com/watch?v=_viShuM9SAw
In early May we motored to Vancouver (see the Latest News for May 2013). Getting there was a 'windward bash" but on our return trip the wind had dropped. We motored 38 miles in 3 hrs 20 minutes, so averaged over 11 knots, and used just 5gal of fuel (over 7mpg). That is an accurate amount because we are still using the 3gal tanks that came with the engines. When I got back to Saturna I refilled those tanks with a 5gal can and still had a bit left over
I was initially worried about the engine noise from the exposed outboards. So I used a Db meter to check the sound levels. This is what I recorded: At tickover 55db, at cruise 75 at WOT 81. In comparison when driving our Toyota Tacoma pickup I recorded: at idle 46, at full throttle 76, at 70 mph cruise 66db. So louder than the inside of a car, but not too bad.
I did design some removable sound deadening engine cowls but found that the noise cancelling headphones that I bought for flying made a huge difference to the noise level. So I am using those instead for now.
There are not many cruising powerboats that you can easily drive up onto a beach and dry out for a BBQ or bottom scrub. The lower photo shows the wide hull spacing and good bridgedeck clearance - on many powercats you cannot see under the bridgedeck when at rest. Slamming in a seaway (when you tend to slow down) must be horrible on those boats.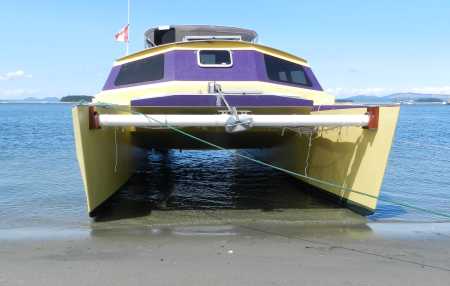 In late July we felt the boat was finished enough for us to go cruising. We headed north to Desolation Sound, see the Cruising Blog on the left menu for more details
This video is a single shot, of first the interior and then the deck area and cockpit. It also shows the "as if by magic" double bunk to saloon conversion
or here if the embedded video does not play www.youtube.com/watch?v=UGW3qWib0RQ
But of course it wasn't really magic. This is how the bunk conversion is done
or here www.youtube.com/watch?v=iVtd0IqEWi0
while this one is a 360 degree view of the boat from the water
or here www.youtube.com/watch?v=9E8bp_ZLBZk
Our first cruise in 2014 was in March, across Puget Sound to Langley on Whidbey Island as my birthday treat
or here www.youtube.com/watch?v=KP7cKV4_LU8
And check the other videos on my youtube channel
http://www.youtube.com/user/WoodsDesigns?feature=mhee
Update 2015: After three seasons cruising in British Columbia and Puget Sound in October 2015 we transported our Skoota by road to west Texas. From there we cruised round the Gulf of Mexico and on to the Bahamas. You can see more about this trip on my Facebook page and in my blog. See link in the left menu
You can download a provisional studypack HERE
Basic Material List
60 sheets 6mm plywood
25 sheets 9mm plywood
450 board feet 1in x 6in timber (140m of 25mm x 150mm)
36 gal (140kgs) epoxy
5lb (2kg) wood flour or similar filler
5000 stainless steel countersunk screws 1in x 6
filler/paint as required
All plywood to be best quality Marine grade Gaboon ply. Sheet sizes are 8' x 4', 2440x1220
All timber to be at least "Joinery Quality". Unless noted otherwise all timber is softwood, eg Douglas Fir, Sitka Spruce, Yellow Cedar or similar. All timber is "PAR", or "Planed all Round".  Thus sizes given are nominal, ie 2" x 1" has a finished planed size of approx 45mm x 20mm. (Note: It is usually cheaper to buy wider planks, eg buy 2" x 1" and cut it in half to create 1" x 1").
Epoxy glue is recommended for all glue joints as it is the strongest and most watertight glue.
If you are interested in having a boat professionally built, then Josh Turner of Wheelhouse Woodworks, Sequim Wa USA (who built our Skoota) is the man to contact This email address is being protected from spambots. You need JavaScript enabled to view it.