All Our Designs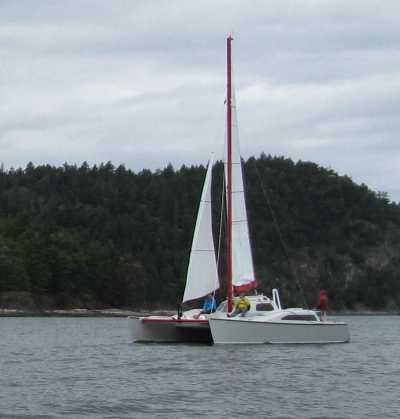 DOWNLOAD PLANS AVAILABLE  GBP700.00
Please click on the button below if you wish to buy full building plans. Note: You can pay using Paypal or with your normal credit card. 
Plans will be sent as a zip file once payment has been received. This is no longer an automated system, so please allow 48 hours for your order to be processed and your plans emailed to you.  
If you have not received plans after that time please contact us at This email address is being protected from spambots. You need JavaScript enabled to view it.. We never transfer money from Paypal until your plans are ready to send out. Normally if there is a delay it is because we are away sailing. 
THE FACTS AND FIGURES
LOA 8.8m 28ft 10in
LWL 8.35m 27ft 5in
BOA 5.6m 18ft 5in
Draft (Hull) .42m 1ft 4in (Daggerboard down)
Headroom (Hulls) 1.56m 5ft 2in (Cuddy) 1.54m 5ft 1in
Sail Area (Main) 27 sqm 290 sqft (Genoa) 14.7 sqm 158 sqft
Disp (Empty) 1800kgs (Loaded) 2400kgs
Engine 8 - 9.9hp 4 stroke outboard
In concept the 29ft SATURN is an updated Surfsong, or a fast Gypsy. It is suitable for those who want to coastal cruise or occasionally race. It is not intended for long term ocean sailing as it has limited load carrying and overloading would spoil its performance.
To speed construction the hulls are chined flat panel and the decks are all single curvature. Construction is plywood on frames, epoxy glass sheathed. Saturn can be built in sections for final completion by the water.
The photos above show the first hull completed and out of the workshop and below is the beginning of the central cuddy
A study plan is available HERE
You can download a set of building photos in three parts
"Went round Hornby island in two and half hours last week. deep reef in main and a couple of wraps in the jib, just flying but very comfortable. OK, it was a little wet going to windward at 10kts but dry going downwind at 15kts. I'm liking her more and more.
On December 28th Andrew Slow wrote again from British Columbia (where of course it was mid winter) to say:
"I've been sailing quite a bit though and like the boat more and more as I get to know her. The day after Boxing Day I took my kids and their partners out for a windy sail in relatively flat water. With a reef in and a few rolls in the jib I guess we got up to 17kts or more very easily going to windward with no fuss at all. They were very impressed and said they could water ski behind if they had the nerve and a very thick wet suit."
I have enjoyed the boat so much this year and feel that I know it so much better and know what it can do. I think I will have her until I can't hop about anymore"
See photo and video below when racing in British Columbia. The boats to lee while sailing to windward are larger Farrier trimarans, as you can see, we're going at much the same speed. Then the boat to lee when we are under spinnaker is a Santa Cruz 52, and we caught it up! I tried to video the gps, not very successfully (I was supposed to be trimming the spinnaker) but it does show 13 knots
A video is here https://www.youtube.com/watch?v=kkeosNe90uY&list=PLT7PbPvOm8lzsFDoSIUv_Fumvr_Zquicc&index=20 if the embedded one does not open
And this is a Florida built Saturn, nearly finished!


Later:"launched the boat this morning, thanks so much for a great looking boat,"
More here https://www.flickr.com/photos/129030505@N05/sets/72157648990944510/
To help you compare different, yet similar, designs here are the cross sections for Sango, Eagle, Saturn and Salish 28
Saturn Materials List (approx, no allowance for errors or waste)

Bulkheads
5 sheets 9mm ply
30m 3" x 1", 10m 2" x 1"

Hull
20 sheets 9mm ply
35m 2" x 1", 55m 1 ½" x 1"
4m 2" plank (Width varies and can be laminated from several narrower strips)
20m 1" plank (Width varies and can be laminated from several narrower strips)

Interior
2 sheets 6mm ply
6 sheets 9mm ply
40m 2" x1"

Decking
6 sheets 6mm ply
5 sheets 9mm ply
60m 2" x 1"

Beams

3 sheets 9mm ply
8 off 5.5m 3" x 2"

Cockpit
5 sheets 9mm ply
40m 2" x 1"

Cuddy
8 sheets 9mm ply
2 sheets 6mm ply
40m 2" x 1", 3m 6" x 1"

Totals:
10 sheets 6mm ply
52 sheets 9mm ply
55m 1 ½" x 1"
240m 2" x 1"
30m 3" x 1"
45m 3" x 2"

Glass/epoxy
20kgs sheathing cloth 200g/sqm (min, 300g/sqm max)
15kgs 600g/sqm +/-45deg biaxial, 70kgs epoxy
(option: 5kgs polyurethane glue can replace epoxy for above water glue joints, except beams must be epoxy)

NOTE: All plywood to be best quality marine grade, (gaboon (okume) preferred)
All timber to be best quality Douglas fir, yellow cedar, sitka spruce or similar. Timber sizes are nominal PAR (planed all round). Thus 2" x 1" has a finished, actual size approx 45mm x 20mm