All Our Designs
DOWNLOAD PLANS GBP335.00
Please click on the button below if you wish to buy full building plans. Note: You can pay using Paypal or with your normal credit card.  
Plans will be sent as a zip file once payment has been received. This is no longer an automated system, so please allow 48 hours for your order to be processed and your plans emailed to you. 
If you have not received plans after that time please contact us at This email address is being protected from spambots. You need JavaScript enabled to view it.. We never transfer money from Paypal until your plans are ready to send out. Normally if there is a delay it is because we are away sailing. 
THE FACTS AND FIGURES
cold moulded or strip plank hulls, ply decks
LENGTH O.A. 7.3m 24ft
LENGTH W.L. 6.65m 22ft
BEAM O.A. 4.3m 14ft
DISPL (empty) 0.7T 1500lbs
DISPL (loaded) 1.0T 2200lbs
HEADROOM 1.35m 4ft6in
DRAFT 0.55m 222in
SAIL AREA 18.8sq. m 202sqft (25sq.m 270sqft)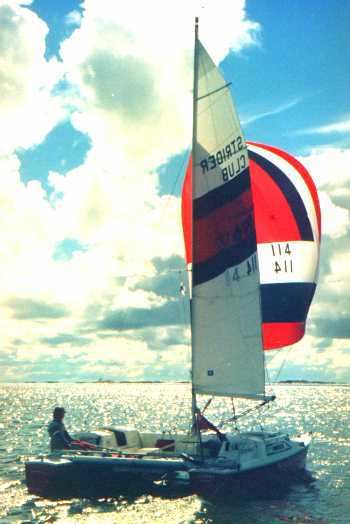 NOTE: The Shadow is the wooden version of the grp Strider Club and shares the same hulls as the Strider, but is a simpler less racey boat with LAR keels instead of daggerboards and a smaller rig.

A bigger rig (known as F1 rig) is available (25sqm) for those who want more performance.

Here is a short Youtube video, taken from the Multihull Sailors Have More Fun! video, see the Video page for more details
Shadow features low aspect ratio (LAR) keels and a solid cockpit floor with a deep mast beam. All sail controls are simple (no winches) and the cockpit area is kept clear of ropes. The side opening hatches allow safe access when under way.
This is the same basic design as the Strider Club which we sailed as a convoy of 3 boats singlehanded to the Soviet Union in 1989. We lived on board for the 3 months of the trip and sailed over 3000 miles from Plymouth UK to Tallinn.
You can see more about this trip on our video "A Day Sail to Russia"
User Comments:
"She is certainly close winded and tacked round without fuss" Practical Boat Owner
"The longer she is sailed the more she grows on you. She makes a seaworthy coastal cruising boat which offers great satisfaction and enjoyment under sail" Yachting Monthly
A great Shadow builders blog is HERE (strip plank cedar version)

Shadow Hull Building Photos HERE
Shadow Deck and Fitout Photos HERE
More information about this design can be obtained by purchasing a Study Plan