Articles
Merlin Cuddy Photos
After many years of open deck catamaran sailing (Gwahir, various Striders and Merlin) I decided it was time to fit a cuddy for extra comfort (maybe due to advancing age!) So we made one for our Merlin, but it can also be used on Strider and Janus, see the Plans Updates pages for free basic drawings. It is built from 4mm plywood
The basic cuddy allows for a double bed with sitting headroom. The photo above shows the double bed, the one below the "dinette" with foot well. Stowage is in cloth bags on the cuddy sides, and in the hulls of course.
A lifting hatch with cockpit tent makes it comfortable and offers almost standing headroom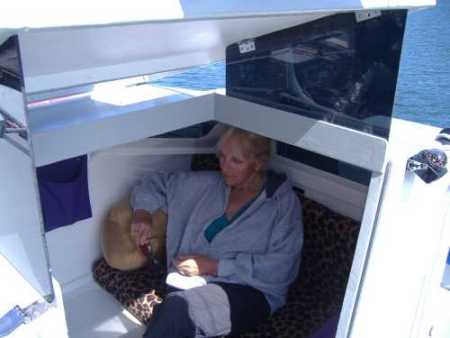 It is important on a wet day to have a "porch" where you can leave wet clothes and boots, the small boom tent does this job and can be left up in much stronger winds than a regular tent. Note cuddy windows are dark smoked perspex to make sleeping easier!
With only two on board the hull can be used exclusively for the galley (port side) and head (starboard)
Galley in one hull. A place for everything, and everything in its place. Watertank under cooker, extra stowage and cool box on aft bunk. All is removeable to access forward bunk
The cuddy is small enough to still allow easy access forward. the genoa is recut with a higher clew so it sheets to the cuddy roof. You also need a deeper mastbeam
The cuddy made a huge improvement to our comfort both when sailing (something to hide in/behind) and when anchored, yet because it is so light and small it didn't really affect performance that much
It takes about 30 minutes for us to convert from cuddy version back to open deck version when I want to race. We usually leave the cuddy on the car and have slept in it.