From-Latitudes and Attitudes, August 2006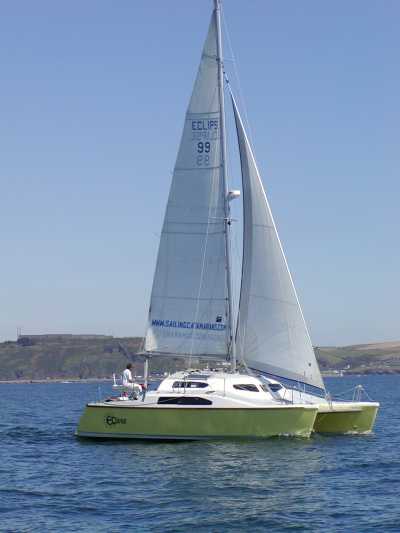 Before discussing the Eclipse, indeed before even outlining why a catamaran makes a great cruising boat, let's first agree on what we all want from an ocean cruiser. One good double bunk, plus a sea berth useable when sailing to windward in 25 knots, is enough, although maybe a spare for friends or family is useful. More important are a big galley and a good heads compartment.
Absolutely essential is a comfortable saloon with an all round view. After all, when on land we don't choose to live in a basement, so why shouldn't cruisers, who spend most of their time at anchor, be able to look out at views of white sandy beaches and coconut palms? We also want a large, safe deck area and a boat that can look after us in bad weather. Shallow draft and good light-wind speed are further priorities.
Above all, a comfortable home on the water.
These requirements help explain why catamarans are now so popular as live-aboard cruising boats, for they offer fast, level sailing, with no heeling at sea and no rolling at anchor. One goes "inside" not "down below" and there will be all round vision from the saloon. Finally, there is an incredible level of comfort and useable space, both on deck and below, when compared to a similar length monohull.
Multihull critics will say, "Yes, that's all very well, but what about capsize?" In fact statistics collected by the MCA (the UK equivalent to the US Coastguard) list only a couple of hundred cruising catamaran capsizes world-wide during the last 40 years. Most were during races in the 1960-70's. Today the incidence of capsize is very low and is reducing steadily. These days it seems one is much more likely to hear of a monohull that has lost its keel (as recently happened to several Bavaria yachts, not to mention to most of the swing keel race boats) than a live-aboard catamaran capsizing. Don't forget that ballasted monohulls are the only vessels in history that can theoretically recover from a knockdown. Fishing boats, motor yachts and traditional sailing ships can't. Furthermore, a monohull will only self right if it doesn't sink first through an open companionway hatch.
Most production catamarans are now designed for the charter market and not for cruising, thus they tend to be larger than strictly needed for a liveaboard couple. That's why the Maine Cat 30 and, especially, the Gemini 105 have been so successful. Now joining these two mid-30ft designs is a catamaran designed and built in the UK - the Richard Woods designed 32ft Eclipse. Richard Woods has been sailing for nearly 50 years, and catamaran sailing for over 30. During this time he has lived on all sizes of both monohulls and multihulls, from snow-decked British anchorages to the heat of the tropics. He is one of the world's most successful multihull designers and has sold nearly 2,000 designs.
Eclipse comes in two versions.
Either the version maximising performance, as seen in the prototype, which has daggerboards, tiller steering and a 9.9hp outboard engine. Or the cruising version fitted with shallow keels for windward work, twin 18hp diesel engines and wheel steering.
Clearly the daggerboarded boat will offer better performance while the cruising version is easier to sail, but still no slouch. Both versions use the same flared, round bilge hulls with a pronounced knuckle just above the waterline. This knuckle both increases the space inside and reduces wave slap under the bridgedeck. This starts well back and has 21in clearance even when loaded. The two versions also share essentially the same interior, deck layout and rig.
The rig follows the modern norm of a large fully battened mainsail and small, just overlapping, genoa. Halyards and reefing lines are all led aft, so there is never any need to go to the mast for reefing or sail handling. Forward are big sail and anchor lockers - the prototype carries 8 sails, 3 anchors, plus two 30 lb propane bottles.
Aft, the cockpit can seat twelve, while the wrap around cockpit seats are cushioned with 4in foam, making Eclipse one of the most comfortable of all sailboats. Think about it, when did you last drive a car with wooden seats?
Inside there is standing headroom in the saloon with all round vision. Six people can sit comfortably round the table, while the saloon also boasts a fixed 3ft x 2ft chart table with lots of space for electronics, charts and pilot books. The wet locker is also here, complete with a small seat, which makes putting on boots so much easier. The whole cabin is well ventilated with 7 opening ports and hatches. Book shelves total 8ft for paperbacks and 3 ft for large pilot books. Other shelves hold racks of CD's, DVD's, even potted plants.
The galley is centrally located in the starboard hull. A built-in oven and 3 burner stove, together with 20 sq ft of work top and masses of stowage space make the Eclipse galley bigger than those found on most 40fters. A large fridge-freezer is located under the forward bunk.
Overall, it has proven more than enough for two people living on board full time for 3 years and even cooking a roast Christmas dinner for 5 was no problem.
There is a 4ft wide double bunk aft in each hull. A bookshelf runs its full length. A hanging wardrobe for shore clothes is hidden behind the daggerboard case, while open lockers hold most sea-going wear. A large locker under each bunk can be used for dried food and spare bedding.
Many boats boast "vanity units", but Eclipse's is one of the few that can genuinely be used as such, as it's fitted with a mirror, a makeup table and a seat. The heads compartment is over 20 sq ft and has a moulded-in basin and large shower sump. A locker forward gives easy access to seacocks and can be used for stowing things like the vacuum cleaner, swimming gear and laundry.
Richard Woods built the prototype Eclipse for his own use. It has been well proven since launching in early 2001, as it has now raced and cruised over 15,000 miles and visited over 25 countries.
Everyone claims that their boat is faster than the competition, but in Eclipse's case that is no idle boast. Shortly after launching, when the boat was empty and sails new, Eclipse recorded its highest ever speed of 21 knots. Eclipse is naturally slower now, but even so GPS recorded speeds of 16 knots or more are still common, even when loaded for cruising.
It's rare for magazine boat tests to be sailed in ideal conditions, rarer yet for them to last more than a couple of hours. So in reality a magazine report doesn't give a very good impression of sailing performance. A far better test is to race a boat against its competitors on the race course.
The UK's Round the Island race is one of the biggest races in the world with typically 1700 starters, including over 50 multihulls. It is a 60 mile race starting and finishing at Cowes in the Solent and boats race right round the Isle of Wight so are certain to sail both to windward and off wind. Furthermore they will be sailed hard in the lumpy overfalls off the Needles and at high speed in flat water through the Solent.
Eclipse entered the 2002 event held in 15-20 knot winds and was easily the first cruising catamaran to finish. The next production catamaran was a 43ft Belize, which finished over one hour later. Eclipse also beat several F27 and Dragonfly trimarans boat for boat. Possibly a greater feat though, was to overtake Mumm30 racing monohulls to windward in the closing stages of the race. Who says multihulls don't go to windward? Boats like the J92 (racing monohulls the same length as Eclipse) were left far behind.
Under power the outboard version will cruise at 5.5 knots and motor flat out at 6. In comparison the twin diesel version reaches 7+ knots flat out. But more importantly, the twin diesels allow Eclipse to not just turn in its own length, but pivot on the spot.
There is no point having a fast boat if it is difficult or frightening to sail. Cruisers often say, "I don't want a fast boat" when they really mean "I don't want to be frightened" for no one, when pressed, ever admits to wanting a slow boat. Fortunately Eclipse is indeed safe and easy to sail. A small autopilot, Raymarine's ST1000, has steered Eclipse for thousands of miles in all conditions. When hand steered the twin tiller extensions are ones normally seen on a dinghy. So steering is always light; in fact Eclipse can usually be steered with just two fingers. Tacking is quick and positive, yet Eclipse will also sail "hands off" for long periods.
Normally Eclipse is reefed in 25 knots apparent wind. Under double reefed mainsail and a much reduced genoa, Eclipse has day-sailed to windward in 50 knots. Offshore, Eclipse coped well in over 40 knots when crossing Biscay (the crew stayed below, steering using the remote-controlled autopilot - all round vision helped of course).
Following its successes on the race course, for the last three years the prototype Eclipse has been used as a live aboard cruiser. Eclipse left the UK in late 2002 and sailed two-handed across a stormy Bay of Biscay to the Canaries. From there, and now with three on board, Eclipse sailed across the Atlantic to the West Indies in 18 days. A single handed cruise through the West Indies and Bahamas followed, then double handed along the whole US eastern seaboard from Florida to Maine before heading south again, via Cuba, to Central America.
The main drawback for all small catamarans, and yes, there has to be one, is limited load carrying capacity. Having said that, the prototype Eclipse carries a sewing machine, watermaker, generator, 3 anchors, parachute sea anchor, Christmas tree, probably enough tools to rebuild the boat if necessary, and 3 computers (plus scanner, printer etc). Not to mention all the normal paraphernalia that a liveaboard couple need. There is even a rigid dinghy hung in davits, a solid fuel stove and a built-in safe. So load carrying is probably sufficient!
Eclipse can be home built from plans, while it is also available as a production boat.
The production Eclipse uses biaxial and quadraxial non-crimp glassfibre and a Divinycell foam core, thus making the boat unsinkable. For extra security Eclipse is also double bottomed, thanks to the interior tray moulding. This was first used on Eclipse's smaller sister, the 30ft Sagitta, one of which dragged anchors in a gale and ended up on a rocky beach minus a keel. Despite a 10ft long hole below the waterline the Sagitta made it 20 miles back to port - floating on the inner tray.
The production Eclipse is built by the longest established multihull boatyard in the world - The Multihull Centre (www.multihullcentre.co.uk ). Formed in 1968, and specializing in the refit and building of multihulls, the Multihull Centre also regularly stores 100 multihulls in its 5 acre boatyard. Prices start at USD160,000 which sounds high when compared to a 32 ft monohull, but for the extra space and comfort offered, it is excellent value for money. Add in performance, and it's outstanding.
Maybe Eclipse can best be summed up in the words of the reporter from Practical Boat Owner (the UK's largest yachting magazine) who, after testing Eclipse extensively, wrote: "Eclipse makes you realise the value of a designer's practical, hands on experience. Everything works....Whatever your inclinations it's hard to deny the practicality of the Eclipse for long distance sailing. Or even for a quick whizz round the Isle of Wight"