My experiences on Eclipse a year ago didn't dampen my enthusiasm for small(er) cruising catamarans. If anything the reverse, as Eclipse ultimately proved far more seaworthy than even I expected.

Rush in NW Spain
So, after a summer spent sailing in Canada, I joined Alan Morris in November to crew his 10m catamaran Rush from Lanzerote to Panama, a trip that would become my 5th Atlantic crossing. We had a bumpy six day sail to the Cape Verdes, where we spent five days - long enough. It hasn't rained there for three years, and it showed!

Approaching the Cape Verdes at dusk
Worse, we had to run the gauntlet of street sellers and, especially, the "Boat Boys" who blackmailed every cruiser into paying 4US to "watch" the dinghies every time they went ashore.

Anchored in Cape Verdes
With just two crew we kept loose watches during the day, and at night alternated between 2000-2400 and 0400-0800 watches and the 2400-0400 watch; thus every other day we got 8 hours (admittedly broken) sleep.It was another bumpy sail to Charlotteville, Tobago one of the least developed of the Caribbean islands. We arrived 13 days later, just in time for Christmas.

Chartletteville Tobago Christmas Day
Looking back I realized I have spent the last 6 Christmas' on board catamarans; in the UK, Barbados, Bahamas, Panama, Costa Rica and now Tobago. A short sail took us to Grenada for New Year, where we anchored in exactly the same spot as Eclipse had four years earlier.

Me steering Rush
Times have changed in the West Indies. It's certainly no longer an exotic or mysterious destination, indeed in many ways it could be considered part of the USA or Europe.
We still had a long sail ahead, so left after a few days, heading west. We knew of Venezuela's violent reputation in advance, so decided to cruise the, supposedly safer, outer islands rather than go anywhere near the mainland. All to no avail, for in Margarita we were robbed at knife point in a crowded street in broad daylight. So my advice is to avoid Venezuela until the security situation improves. It is the only place I've cruised where we always locked the companionway door at night and turned on our burglar alarm, even though we always chose crowded anchorages.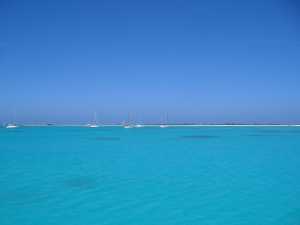 Isla Tortuga, Venzuela
The only good thing about Venezuela was the incredibly low cost of fuel, cheaper even than drinking water! But that wasn't a great advantage to us as we've only used 10L of fuel since leaving Lanzerote.
I wrote this part of the report in Curacao, and sent it to family and friends using on-board wifi internet. Who'd have thought it, even 5 years ago; broadband internet on board when at anchor - whatever next?

Spanish Waters, Curacao
When the wind drops we will sail onto Cartagena, Colombia, which, surprisingly, is safe and one of the best preserved Spanish colonial cities. From there it is only a short sail to the San Blas, which are without doubt the best part of the Caribbean. But that's for the next Latest News.
I always count the boats in each anchorage. In the Canaries, Cape Verdes, Tobago, Grenada and Venezuela about 15% of cruising boats were multihulls. That's quite an increase on even 5 years ago, when I was last here.
Since many of the cruising monohulls are quite elderly it implies that maybe 30% of all new cruising boats are now catamarans.