Due to popular request we now offer this page for those who want to buy and sell their multihull. This web site is seen by thousands of people every month who are specifically interested in sailing catamarans, so it makes sense to advertise here and reach serious potential buyers.
A quote from someone who listed their boat with me: "He paid the price I was asking which I'm pleased about. I only had the boat advertised on your site and was getting an average of about one email a week. I orginally thought it could take 2years to sell, what with the economic climate and all. Also it is an unusual boat but it does attract a lot of attention."
The cost to advertise your Woods Design is £50 (or approx $75) and the advert will run until sold. Or the cost is £75 ($100) if it is a non Woods Design boat. Boats wanted and gear for sale/wanted adverts can be put on my Forum pages.
To advertise on this list please email us with full details of your boat, including up to 4 photos. To pay for the advert please use the Order Form, tick/check the Consultancy Box and in the Comments page say it is for an advert. Please note, you should send advert as plain text and photos as small separate jpegs. Doc and rtf files will not be accepted as they take too long to reformat. Thankyou.
Stealth Dinghy


Sept 2010: As I am out of the UK much of the time I don't sail my Stealth dinghy any more. Therefore I have regretfully decided that it has to go! It was launched in late 1998 and has been raced successfully all round the UK. Comes complete with bright yellow mylar sail, Proctor mast, carbon/cedar daggerboard and combi trailer. Price £1000.
Please contact me for more details. Email: woodsdesigns@gmail.com
=====================================
======================================
Strider Club in USA
1988 Club Strider Catamaran - 24 foot length, 14 foot beam.
Built by Palamos Boatbuild, GRP solid deck with aftermarket safety rails and removable chairs at the stern
Low aspect ratio keels Hulls with lockable hatches opening inboard
New front trampoline in 2010 Roller furling jib with new roller furler in 2010 New standing & running rigging and Windex in 2011
Epoxy barrier coat on hulls, no major repairs
Original sails Main sail cover Lazy jacks for main sail 1987 8 hp Evinrude Yachttwin motor - good condition
Located in Minneapolis/St. Paul area Original owner This boat has been fresh water sailing only and sailed from a protected marina. The design is intended for cruising and comfortably fits 6 or more, with great stability.
Custom Slide-On aluminum trailer with new tires included
Asking $11,500 USD including trailer, price negotiable
Contact: Gerry Bren, gcbren@gmail.com Ph. 1-651-454-6782
======================================
Strider 25 (a Mk 11 Strider Club)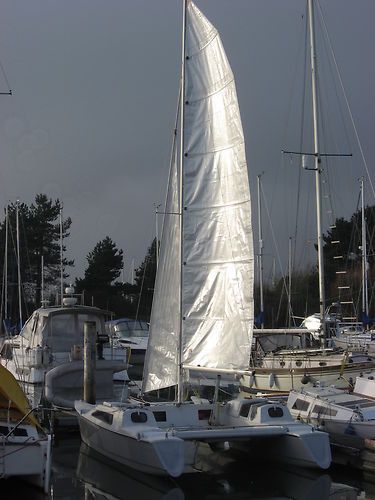 2008 Strider 25 for sale with asymmetric spinnaker. Hardly used, kept out of the water most of the last 3 years. In beautiful condition as it's only been sailed a handful of times. It's a 2008 boat where as most Striders are 1985-89, it has the big rig and the grp deck (like the Club) which makes it much nicer to sail or stay on than the original Strider.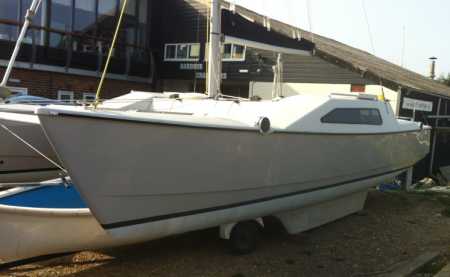 Hulls beautiful condition, mast rigging/running rigging all very very good condition sails in very very good condition, large asymmetric like new recently antifouled. Ready to go sailing!
£14 000 ONO Lying Millbrook, Cornwall, UK Contact Richard Clarke Email: andsuperstarbooks@hotmail.co.uk 01752 822348
=============================================
Strider 24
Built by Palamos 1986 Very reliable Johnson 8hp . Excellent sets of sails – two working mains in good condition and one Twaron/Carbon fully battened main in excellent condition. 2 Genoa's, Asymetric and Jib all in good condition. Cockpit tent.
Full inventory including, Plastimo Compasses (X2) Clipper Logs X2, Sounders (X2) VHF, Autohelm and Nav Lights. Also 15lbCQR and 12lb Danforth anchors. Launching Dollies. Radar reflector. Copper Coat antifoul professionally applied in 2006 means she can stay in the water all year round.
Great fun, family boat that is equally adept at being a family day sailing beach boat or a challenging race machine. Price £6000. Lying South Devon, UK. Email Stanboys@hotmail.com
=================================================
For Sale Strider Club - Toucan
Built by Palamos in 1989 in GRP. Club version with GRP deck tray and low aspect keels and inboard opening hatches to hulls. Hulls epoxied 1999. Forward trampoline renewed 2009, netting fitted between front crossbeam and deck tray. Wooden walkway from deck tray to foresail for easy access to sail/cover. New dodgers fitted 2011. Lockable covers to storage areas in mast support. Provision for 2 single berths in each hull. Included cockpit tent increases accommodation space at anchor – easily adds space for 2 more berths if required.
Equipment: Crusader mainsail (1989) with lazy jacks, Mitchells foresail (1998) on RWO roller furling, Crusader Asymmetric Spinnaker (1989), new sail cover 2010, new Foresail cover 2012. Enkes winch and handle. Deck light on mast, new Tricolour masthead light 2011, new shrouds 2011. NASA Marine instruments - Depth, Speed, Wind and GPS repeater fitted in custom housing behind mast. Mariner 5 hp four stroke outboard with 12 litre fuel tank. Battery (new 2011) charged by O/B alternator and Solar Panel with regulator.
Anchor, 5m chain + 25m warp plus small grapnel type anchor + chain and warp. Auto helm, radar reflector, ball and cone, Compass rescue harness, Suunto compass, boarding ladder, fire blanket, boat hook, paddles. Fenders and warps, lockable covers to storage areas in mast support. PVC Helming chairs for each hull – with cushions.
Lying afloat, NE England. Offered at £7000 E-mail: gordond4@sky.com
======================================
Banshee 35
"Duende" Built by Palamos in the UK in 1989, completed and launched by the original owner around 1992. We purchased her in 1995 and have regularly updated and maintained her in excellent condition.
Between 1998 to 2011 she has been our home bringing us safely from the UK to New Zealand via many small islands including Australia!
Exceptionally well equipped for blue water offshore sailing. Includes secure, sheltered pile mooring in Whangarei Town Basin Marina, New Zealand until July 2012 (renewable at very competitive rates).
A unique opportunity to purchase this affordable fast cruiser/racer in the Southern Hemisphere...the tropical islands of Tonga, Fiji, Vanuatu just a weeks sail away. Or avoid those northern winter blues and spend next Christmas "down-under".
Full specifications and inventory from... dennis@mrblueskies.co.nz Price GBP 68,500
===========================================
FOR SALE the original GWAHIR SOLD from this advert!!!
LOA 7.47m (24'6") LWL 6.85m (22'5") Beam 4.5m (14'7") Draft 0.3m/1.6m (1'/ 5'6") Richard Woods designed and built as an out and out racer to the Micro Multihull class rules c.1982 Accommodation: sitting headroom for 2 persons, 2-4 berths (VERY narrow).
Construction: double diagonal bilges (resorcinol as adhesive) sheet ply and stringers elsewhere believed epoxy adhesives. Z spar aluminium mast and boom, s/s rigging,2 speed halyard winches and self tailing sheet winches. Sails: McNamara white terylene fully battened mainsail and sail cover, white terylene genoa with blue sacrificial edge on Plastimo roller furler, Dolphin spinnaker and snuffer, and a blue drifter.
Engine 4 hp Marina short shaft two stroke outboard. (old and tatty ?amalgamation of 2-3 obs) Electrics: 12 volt lead acid battery , isolator switch and fuses.
Equipment CQR anchor 7 meters chain and a quantity of warp. Various fenders and warps etc. Navigation: Nasa log and depth, steering compass and hand bearing compass.
Galvanised four wheel trailer (with expanding cradles to allow launching and recovery fully rigged and reduction of width after removal of beams for road transport) winch, mast support and spare wheel. Lying on road trailer at Virginia Water (Near Heathrow, 3 miles from Junction 13 M25)
=====================================
======================================
Two 1/4 shares for sale in "Catalyst" Woods Designed Eclipse
Launched 2002 Substantially built for cruising comfort Catalyst is based in South Devon and currently ashore undergoing a refit.
Refit will include repainting, refurbishment of main, genoa and trampoline, new windows, reconditioning of engine, upgrading of instruments in addition to routine maintenance. Intended cruising ground south west English Channel


A hands on/DIY approach to maintenance essential Two retired friends wishing to sale together would match the the two continuing partners. Involvement in the refit would give the opportunity to make the boat "yours"
Built by the four partners Catalyst enjoys a layout altered to give privacy and provide for comfortable cruising. Constructed in wood/epoxy, glass cloth sheathed with LAR keels Beta Marine 28HP diesel driving twin Gori folding props gives excellent maneuverability
Calorifier for pressurised hot water Shore power with immersion heater and battery charger Cockpit with tiller steering with autopilot. Main winches on cabin top for sheets,halyards,reefing led through stoppers. Secondary winches for spinnaker. Cockpit seats house engine, 200l fuel tank, bilge pump,stowage for warps etc
Lobby with wet locker and navigation station Laptop PC for electronic charts, GPS ,VHF ,Navtex, Switch Panel,battery monitor. Saloon with table seating for 6/7,radio/CD player, stowage and 2 x 200l fresh water tanks
Std Hull Single cabin forward. Galley with oven, separate hob, twin sinks and stowage for utensils food etc, double cabin aft
Port Hull Single cabin forward with shower off, separate sea toilet with waste tank, hanging locker, double cabin aft
All cabins have stowage shelf and cave lockers
Forward self draining bridgedeck lockers Strd anchor, chain and rope,fenders Port gas bottles and spinnaker
Main with slab reefing and lazy jacks,furling genoa, storm jib, and spinnaker by Kemp Liferaft,parachute sea anchor, drogue,danbouy, lifebouy
RIB on davits,6HP outboard
Price Around £16000 per share depending on at what point in the refit the sale takes place
Contact Nigel email address mighnighATme.com
=========================================
=========================================
Sango SOLD from this advert!!!
Professionally built 1997 in cedar ply epoxy. Fitted out for fast cruising and can easily be sailed single handed with all controls led back to the cockpit.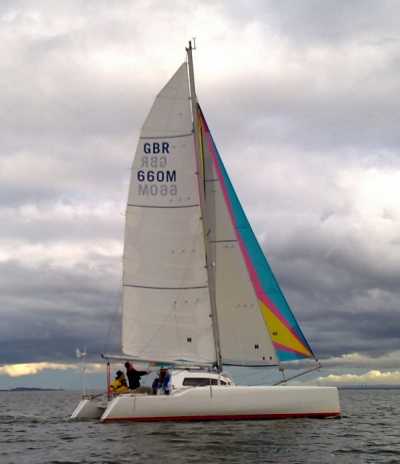 Extentively repainted in 2009 with new windows and new mainsheet traveller. Also fully battened main with some extra roach and Ruttgerson batten cars and 2 jibs (one smaller) all by Hyde 2009. The boat has a bowsprit for an assymetric spinnaker with snuffer by Hyde 2010 and a screacher with Karver KF1 furler by Dolphin 2008.
Trailer professionaly built, galvanised but never been immersed 2008.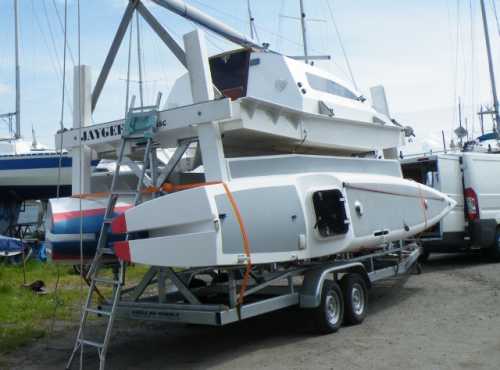 Raymarine ST40 log, echosounder, wind monitor and ST100+ autopilot all intergrated with Furuno GPS and Raymarine ST6000R remote control. All LED lighting in cuddy and hulls as well as nav lights. Rutland 503 wind generator.
Yamaha 8hp 2stroke with custom well cover which doubles as seat, picnic table etc. Custom awning which can be seen in the Yearly Review 2007. The boat also gets a mention in Oct 2010. There is a launching trolley and all the usual stuff, anchor , cooker, sink, water tank, fenders, battery, bilge pumps etc.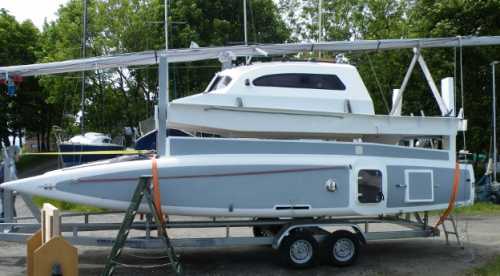 This boat has been maintained to a high standard, is fast, comfortable and a huge amount of fun to sail. Located SE Scotland UK
Price £20,000
=========================================
FOR SALE MIRIAM - WOODS SAGITTA CATAMARAN BUILT 1997 £49,950
Moored in Penzance, Cornwall UK for this season. Construction - Professionally built at Foss Quay, Millbrook, 1997 in Western Red Cedar. Strip/Epoxy hulls with Marine Ply decks and superstructure, all coated in epoxy and glass fibre as per Woods Designs. LAR keels. Unsinkable. Anti-osmosis treatment - epoxy construction!! - plus Copper Coat 10 year anti-foul 2006.
Engine - Brand new Yamaha 9.9hp (June 2011) extra long shaft steerable with the tillers or wheel, charging 25 amp hour starter battery. 3 x 5gall tanks in cockpit locker.
Rig - Z-Spars with twin-grooved furling gear. Bomb-proof rig with caps, intermediate and lower shrouds and diamonds - all renewed 2008. Sails - Fully battened mainsail (Westaway 2006) plus original Dick Batt sail (1997), re-furbished 2006, as spare. Twin headsails (Batt/Osen). Full size genneker (Batt) with sock, set from bowsprit or bow turning blocks.
Electronics - Aero4gen charging 3 x 96amp hour domestic batteries. 240v 500w inverter (2007). Northstar Explorer 710 DSC VHF radio (2008), Nasa Target dual frequency Navtex, Raymarine RL70C Pathfinder Plus colour radar/ plotter with overlay and MARPA (upgraded 2008), using C charts electronic charts. Lowrance X25B fishfinder/depth (2008). Nasa Target wind and speed instrumentation. Navico 5000 wheel auto-pilot.
Galley - Fresh water hand pump to sink (filtered). Rose LPG oven and grill plus 4 burner hob and s/s sink, all with flame failure. 3 way top-loader 'fridge with 'Fridge Mate' control. Fire blanket. Sheriff gas detector with dual sensors in galley & heads.
Saloon - 'Fridge and heater controls. 3 band radio/CD player. 2 heater outlets. 2 opening forward hatches. Removable table transferable to the cockpit for al fresco dining or to form king-size berth. Offshore flare pack and 2 fire extinguishers.
Heads - Jabsco toilet (2008). Wet locker housing Carver P4 lpg heater supplying warm air to saloon and quarter berths. Rinnai lpg hot water heater supplying hot water via pressure system to basin and shower. Whale electric Bilge/shower pump. Gas sensor.
2 Quarter berths - 6' 2" doubles + opening hatches. 150litres fresh water beneath. Side tables, courtesy light over, 12v and heater outlets. Net and canvass wardrobe storage.
Navigation station in Port hull with ½ size Admiralty chart desk. Barometer and chronometer. Raymarine colour radar/plotter screen (also visible from helm) AIS engine and Seame active radar (2008), DSC fixed VHF radio with remote fist mike.
Full standing headroom in quarterberths, nav. station, galley, heads and cockpit tent.
Ground tackle - 10kg Bruce on 5m chain and 50m' 18mm anchorplait warp. Aluminium Danforth-type (from Richard Woods' original Sagitta) on 5m chain and 30m 18mm anchorplait warp.
Cockpit - 2 Lewmar 30 main winches plus 2 Lewmar 15 Spinnaker winches. Wind, speed and depth instrumentation. S/s wheel alongside Yamaha engine controls. Steering is detachable to enable tiller steering from either port or starboard seats when sailing. 2 x Navico compasses. Life ring, auto-inflate danbuoy and throw bag. All lines led back to cockpit for reefing without leaving the safety of the cockpit. Full-width pram hood connectable to full cockpit tent to extend living space for dry winter warmth or summer bimini shade. 6 cockpit drains. 5 lockers with fenders, warps and spinnaker lines. Manual bilge pump. 3 Propane gas bottles with regulator.
Ancillary. - Zodiac 2.6m inflatable with Suzuki 2.2 outboard (2007).
Spring 2008 re-fit included :- All standing rigging and guardwires (plastic covered) renewed. New main halyard and topping lift. New trampolines. New stackpack and lazyjacks. New hardwood keel shoes. New fishfinder/depthsounder and transducer. New cockpit and deck paint. Addition of AIS engine with dedicated aerial and SOB Max software, fixed DSC VHF radio, Seame active radar, Echomax passive reflector and 4 mast steps atop mast. Complete gas installation check and verification.
Spring 2011 maintenance included refurbishment of Batt jib with new UV strip. New sun vent cabin air extractor. Re-polish of hulls.
Low and sleek, the Woods' Sagitta is classified as a Cruiser/Racer - however, Miriam is fitted out for cruising, but is still capable of consistent beam reaching at >10 knots (max achieved 14 knots) under genneker. She returned from cruising the coasts of NW Spain and the French Atlantic coast in 2008 and has since been maintained and sailed in Mounts Bay and Isles of Scilly.
Richard says "This is a very well maintained boat that was beautifully built (many people thought it was a fibreglass production boat)"
Contact: Jeremy Gilbert malfunctionATbtinternet.com. Phone number +44 (0)1736 797172
==============================================
Tucanu SOLD from this advert!!!
Sept 2010: A beautifully built Merlin in strip cedar and epoxy. Launched 1992 and sailed all over British Columbia. Refitted in 2007 with: New 6hp extra long shaft Tohatsu engine (Includes battery charger). New removable cuddy. New deep mastbeam and new aluminium crossbeams and bowsprit. New carbon racing mainsail and genoa, fitted on new Harken furler. Asymmetric spinnaker. Older dacron screecher on Harken furling gear. New Harken winch, mainsheet track. 6:1 Harken mainsheet. Plus cruising dacron mainsail and genoa (shown below). Launching trollies and flat bed trailer. Available complete or as raceboat only or cruising boat only. Hence price negotiable starting around USD/CAN16,000, but only while the exchange rate is favourable. Located on Saturna Island, BC Canada but easily transported elsewhere.
Strider Club SOLD from this advert!!!
Sept 2010: "Coco de Mer" is a Woods Strider Club catamaran, built in GRP by Palamos Boatbuild, launched in 1989. As the Club version she has a GRP deck tray, low aspect ratio keels (rather than dagger boards), hatches which open inboard, and a smaller rig than the racing version.


Forward trampoline was renewed in 2009, and forward and aft netting trampolines added. Formerly "Catalyst" she was treated for osmosis and epoxied several years ago and has a larger furling jib than the standard club, mounted on a Rotostay system, with sheets led aft to a central winch.


There are 2 single berths in each hull, with full bunk cushions. Cockpit tent provides extra shelter or double berth at anchor. Portapotti heads in starboard hull.


LOA 24 ft, 7.3m, Beam 14.1ft, 4.3m, Draft 1.8ft, 4.3m; Sail area 274 sq ft 25 sq m;


Dolphin mainsail 1997 and genoa on Rotostay 1999, spare main, spare jib to fit furler, all overhauled 2009/2010 ; Yamaha 4 hp longshaft O/B serviced spring 2010; 12 V battery charged from engine (disconnected); CQR anchor with chain and warps: fenders and warps: lifering: radar reflector; Boarding ladder 2 x Plastimo compasses; Raymarine log/speed 2005; Raymarine depth 2005; Tricolour masthead lights; Garmin GPS 72; Navico Tillerpilot (not fitted).

Lying afloat West Mersea, Essex, UK. Offered at £7500.
SOLD Banshee 35 'Rahula'
Sept 2010: Built by Palamos in the UK 1989 This Banshee was professionally built by the Palamos Yard and is on her third owners. She has been regularly updated and maintained by her current Yacht Surveyor/Engineer owners, including being completely re-wired with a high-spec electrical system (so there no need for shore-supply or generators!).
She is fully equipped for short-handed blue-water cruising with all additional equipment, including drogue, para-anchor, satphone, tools, spares, galley equipment, folding bikes, kayak and much more included in the sale. From 2007-2008 she was sailed from the UK to Eastern Australia. On arrival she commenced a partial refit in preparation for the return leg to the UK, however the owners went from a couple to a triple and so plans have had to be delayed!
This refit included: -Full re-furbishment of the daggerboards, daggerboard cases and rudders -The Yanmar D27 engine was completely re-built by a diesel outboard specialist and now looks and runs like new. -A new laminate roller-reefing genoa was made and the main has had a full service.
This is a very reluctant sale of a capable, comfortable and fast blue water cruising catamaran who has looked after her owners on the adventure of a lifetime. Rahula is currently laid up in Port Stephens, Australia and once commissioned is ready to cruise oceans again!
================================
38' Woods Transit Performance Cruising Catamaran

June 2010: Opportunity to acquire this nearly complete professionally built cat at less than cost to date. This Richard Woods' design offers very spacious cruising accommodation along with the performance and easy sailing characteristics that you can expect from Woods' designs. Performance features include daggerboards, kick-up rudders and twin helms.
Year: 2009 (new) Current Price: 365,000 USD
Located in Virginia, USA, the boat is now basically complete, but disappointed owner unable to keep her.
Builder: Lombardi Yachts
Engines: Nanni Diesel 21 HP Hours: less than 50 Shaft drive Tankage Fuel: 2 tanks 68 US gallons
Water: 72 US gallons Holding (2): 35 liters
Accommodation: Two aft staterooms with queen-sized berths One double berth cabin forward Settee seats six Two heads: Port side full head w/stand-up shower 2nd – mid-ship guest on starboard side Lavac manual heads
Galley down in port hull 3-burner LP stove 3.9 ft3 hi eff 12v refrigerator Double stainless steel sink with fresh & salt water taps
Navigation Equipment Raymarine ST-80 Chartplotter Raymarine Autohelm Raymarine 55 VHF radio Raymarine 2kw radar
Sails & Rigging 47 sq metres (506 sq ft) mainsail 28.6 sq metres (308 sq ft) genoa Stack pack Harken roller furling
Winches: Harken 44 (2), Harken 40 (4) Lewmar 1000 electric windlass
Twin helm positions (cable/sheave steering) Kick-up rudders
6-gallon electric and engine coolant water heater 2500 watt Inverter 145 watts of solar panels (3) 3-blade feathering props (Kiwiprop)
Contact Tom Garetson at tg_53511 AT hotmail.com


=============================================
SOLD from this advert!!! Strider Club YETA Price £7950 ono - Strider Club with enlarged rig.
Made famous in "A Day Sail to Russia" and is Richards old boat.
Built 1989. New fully battened main and jib on Harken furler in 2002 by Dolphin Sails. New spinnaker 2003 by HK sails. Mast replaced and re-rigged in 2002. New trampoline in 2004. Main traveller system and jib Barber haulers and spinnaker sheets. Including CQR anchor with chain, various ropes and fenders & boom tent.
Bought from this site in 2005, we have completed 3 Round the Island races and cruised locally in and around Poole Harbour and up to the Solent.
We have re-itted the boat with the following: New 6HP Suzuki 4 stroke outboard with alternator; new battery; new switch panel; new instruments: wind speed & direction, speed/log and depth; new Lowrance colour chart plotter with GPS and charts covering northern Europe; new nav lights; new sea toilet; new radar reflector; new vhf aerial; new stainless steel platform connecting front beam to bridle; additional cleats. The skegs have been epoxied.
Now offered for sale to make way for a larger cruising boat.
This has been an excellent starter boat, it is fast (we have seen 12 knots plus on a two sail reach) it is safe and easy to sail. Ideal dayboat and weekender during the summer.
SOLD from this advert!!! Wizard "Lavendel Expressen", The original Woods Designs built/owned Wizard
"I have had Wizard for 10 years. Although she was originally built for racing, I bought her for her stability and for being easy to handle singlehanded as my partner is too physically disabled to stand the movements of a monohull or to help out with the sailing.Wizard kept her promises and was a really good choice for us. We also have been sailing with a lot of children and find Wizard roomy, safe and pleasant to sail in all ways. I am regrettfully selling because I too now at 65 am developing health problems.
Extra equipment includes a 6 year old Mainsail, a 5 year old selftacking and furling foresail and a almost un-used spinnaker. Engine is a 7 year old Suzuki 6.5 only used to get in and out of harbours. To know more about Wizard, you can also order STUDYPLANS from this site. Go to Shopping Cart and under 25 ft
If you would want to come and see and try out the boat you can take the ferry from Newcastle on Tyne to Kristiansand in Norway and the bus from there to Arendal. We have a big house, so if you wish you can stay with us while you make up your mind. Or you can charter the Wizard for a longer test. Could be a nice holiday. Welcome!
WANTED A GRP Sagitta. Contact Dave, daveandjennyATjerseymail.co.uk, so probably a boat lying in Europe would be best.
SOLD from this advert!!! VIXEN Strider catamaran

Built by Palamos in 1988 Vixen is a standard Strider, that is to say she has daggerboards and a narrow deck (not up to the mast like the Club Strider.) There are also running backstays. She has had Bowmar hatches fitted to the coachroofs making the hulls much lighter inside.
Since 2000 when I bought the boat she has had new sails (the headsail is only 2years old) new standing rigging, new tramps, new rudders and a new 4hp Mercury four stroke outboard. There are two GPS one built in and working with the digital VHF. The other hand held GPS has fittings on the cabin so that it can be moved to whichever side the helmsman is sitting. Vixen was raced seriously in her earlier life, I have been gradually developing her as a cruising boat.
The price includes an excellent purpose built road trailer which has had new springs and brakes fitted and is ready to tow anywhere. The boat can be delivered anywhere in the UK within reason.
SOLD!!! DASHER Banshee Catamaran
Built by Palamos in 1989 LOA: 35ft (10.65m) BOA: 20ft 6in (6.25m) Draft: 18in/5ft (0.45/1.5m), Wt: 4600Kg laden, 3000Kg unladen
Engines: Yamaha 9.9hp 4 stroke outboard, new1999. Quietly cruises at 5knots, fuel consumption 1/2galperhr. 25 litre plastic fuel tank, electric start, remote control.
Sails/rig: ¾ Bermudan sloop Slab reefed fully battened Mainsail, Kemp 2002. Plastimo furling, Genoa, Kemp 2004. Drifter, ¾ Spinnaker, m/h Spinnaker, Storm Jib
Instruments: Raymarine ST60 wind, speed, depth, with cockpit repeaters Midland 6000 VHF NASA Navtex Pro+ Nautech 2000 Autohelm Garmin 128 GPS
Accommodation: Three cabins, fwd double, two aft small doubles. Saloon with chart table. Galley and heads.

She has completed two Round Britain & Ireland races, and participated in Rally Portugal 2001, and is well equipped for cruising. She has been carefully maintained by her owners, first owner from 1989, present owner since 1997. Under water sections and bilges have been epoxied. She is a standard Banshee with the following modifications: Short extensions to the main coachroof provide full standing room in the aft cabins, as well as sheltered corners in the cockpit. A small doghouse instead of a sliding hatch provides a sheltered lookout, with autopilot controls and instrumentation to hand. Lying: UK south coast.
SOLD from this advert!!! Strider Catamaran with larger rig
I have to sell the boat on health grounds and dearth of crew. I bought the hulls from Palamos Boatbuild in 1989 then fitted them out as a Turbo and launched 1990. The sails are from the Gwahir "Rush Rush" and are still serviceable for cruising. There is a 4 horse Yamaha in excellent condition. New Z spar cruising mast fitted 1996. Net & trampoline need replacing.
The boat has never been raced but cruised, gently and comfortably, in the Irish Sea, Howth, IoM, Barmouth, and round the coast of Anglesey. The boat is tidy and presently laid up at Gallows Point, North Wales . My mooring License is paid up for the year.
SOLD from this advert!!! STRIDER 24FT MICRO MULTIHULL CATAMARAN Lying Lymington, UK. Several suits of sails; furling headsail; masthead spinnaker. Sail no. 63. Outboard motor 4hp. Anchor and chain; warps; fenders. Compass. Road trailer. £7,500 ono. (Note from Richard - this boat was the second Strider owned by probably the most experienced Strider sailor in the world. Thus I suspect it is very well sorted and maintained)
SOLD from this advert!!! 'Sagitta' SCINTILLA - StripCedar/Glass/Epoxy construction with large beaching keels and daggerboards. Built to standard Sagitta lay out with full headroom in each hull, 2 good size double cabins, huge galley, heads with holding tank, separate nav area. Full VDO instrumentation, Wheelpilot, usual cruising inventory and high quality deck fittings. Can be steered by wheel or tiller and is set up for easy short handed sailing. Yamaha 9.9 outboard that is steerable giving good manouverability. This is a fast, seaworthy and easily sailed cruising cat with excellent windward performance. Kept at Foss Quay, Millbrook.
SOLD from this advert!!! FOR SALE STRIDER by owner. Launched 1990 for young family cruising. Low maintenance and excellent current condition attributed to meticulous (obsessive) use of West epoxy. Nissan outboard auxiliary and dinghy (kayak) included. No trailer, but I do have cradles and wheel system for rolling hulls out of the water. Ready to sail. Why not start your Florida trip here? Price: 9500 US$ to good home.