PIXIE 14' fun car-top beach cat
THE FACTS AND FIGURES

sheet ply
LENGTH O.A. 4.3m
LENGTH W.L. 4.1m
BEAM O.A. 2.1m
DISPL (empty) 75Kg
ONE OR TWO CREW
SAIL AREA 11.5 sq m
The PIXIE is an entry level car toppable beach cat that has proved extremely popular with hundreds now sold. It has often been built by Scout groups or as school projects. The American magazine "Wooden Boat" market this design alongside its bigger and more racy sister the Quattro 16. The PIXIE hulls are assembled using slot together beams. No spanners, bolts or keys are required. Complete assembly including rigging takes about 15 minutes. Each hull weighs about 20Kgs so is easy to cartop single handed. The rounded V hulls eliminate the need for daggerboards, making it easy to build and to sail off the beach. PIXIE is ideal for those new to boatbuilding and catamarans. It is also ideal for those who want a fun beach boat that sails well but who are not that interested in racing.
"I found her responsive, easy to sail and thrilling. But at no time did she give me the feeling of sailing on a knife edge" PBO Boat Test 1985
From: Peter Brooks
Hello Richard, I recently purchased a set of Pixie plans (Order 378), and am well underway with the project. Having told a whole host of folks that I was building a boat, and to avoid endless 'how's the boat going' queries at work, I am recording progress on a website -
http://www.timedworld.com/pixie
Peter Brook's Pixie on launch day (above)
This Pixie (below) was built in Australia as a school project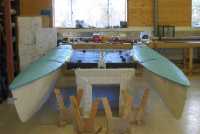 "I just thought you might like to see my completed Pixie catamaran, I finished it on the required date of the 25th of August, and it was marked a couple of days later.
Thank you very much for all your help, the plans were excellent and I have recommended your designs to a number of friends who after seeing my completed cat are suddenly quite interested in doing a similar project for their HSC (Higher School Certificate).
I love the shape and curvature of the hulls, especially their depth and sleekness."
A complete Materials List is supplied with the plans, but for costing purposes the following should suffice:
6 sheets 4mm (3/16in) gaboon plywood
20m 1in x 1in, 10m 11/2in x 1in, 5kgs epoxy plus fillers, screws, paint etc