All Our Designs

PAPER PLANS GBP425.00 (no download plans available) 
THE FACTS AND FIGURES

cold moulded
strip cedar
foam sandwich

LENGTH O.A.7.5m
LENGTH W.L.6.85m
BEAM O.A. 5m
DISPL (empty) 0.4T
DISPL (loaded) 0.75T
HEADROOM 1.2m
DRAFT 0.2 - 1.05m
SAIL AREA 31.4 sq m
Gwahir is now also available with several options:
A Square Top rig set on an 11m mast.
Aluminium beams
Double chine hulls instead of round bilge
The Gwahir was built as our own first racing micromultihull back in 1982. We sailed our Gwahir for three seasons and found it to be exceptionally fast and responsive. It is more sophisticated than our other micros and is only suitable for experienced multihull sailors.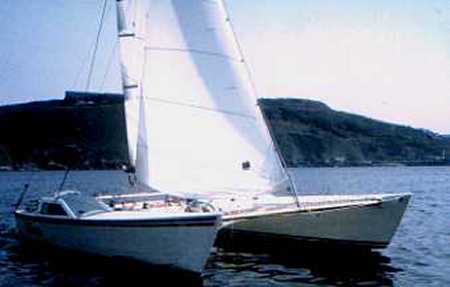 Interior space is limited. Even so, we spent up to 3 weeks living on board when cruising and racing in the English Channel. We entered the Weymouth Speed Week competition and recorded 16.6knots over 500m (600yds), and were probably the only people ever to be living on board during the Speedweek!

User Comments:

"Despite reaching across the sound at over 17 knots we (on a 38' Newick tri) did not gain at all on her (Gwahir). She is an exciting ultra-sensitive boat to sail and handles superbly under sail"
Multihull International, December 1983
"She also impressed with her ability to take to the beach and looked altogether a very civilised little boat"
Multihull International, November 1984
Note: This design is for experienced sailors only and is available to special order only. Please contact us if you want to build.